The other night "One Flew Over the Cuckoo's Nest" was a movie my wife and our 'adopted daughter' were watching on TV.  I'd seen it before and was too tired to stay with it anyway.
But as I headed off to bed with my every-evening bowl of rainbow sherbet, I watched the scene where McMurphy (Jack Nicholson) tries valiantly to rip "the old hydrotherapy console (a massive marble plumbing fixture) from the floor and heave it through the window, but fails to do so." 
As McMurphy walks from the room however he turns and addresses his fellow mental ward patients with a question of which I was reminded this early morning while out rowing.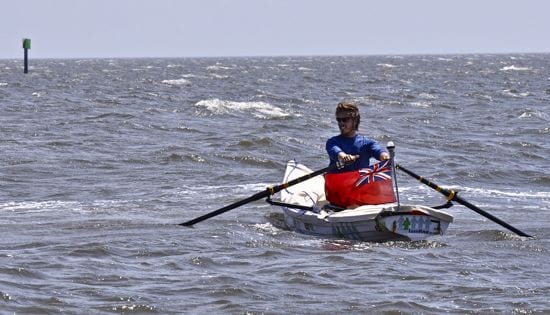 The first two miles were with the wind.  The last two were not.  In fact, while the whitecaps would not register as a small craft advisory – as pictured here of Lewis Colam in his 1400-mile row from Miami to New York – it was tough just the same. 
I longed for the finish line.  There was not going to be a crowd to greet me.  Not even the lone fisherman on the dock was there when I returned. Water, evidently, was too rough even to fish.
It was my worst recorded time.  Ever.  Admittedly I was struggling.  Stroke rate was slow; every other wave threatened to add to what was already in the 13-inch wide, 27-foot long (designed for flat water) racing shell; and the thought occurred to me (more than once) that this probably would have been a good morning to have a third cup of coffee, another doughnut and watch the seagulls enjoying the wind.
But as my brother is fond of saying – and he should know having placed four Gig Harbor teams of youth on the podium in recognition of their four, now five, consecutive national kayaking titles: 'When you're half-way, whaddayagonnado?  Quit?  It's the same distance to turn around as it is to finish.'
It was that, and McMurphy's ridiculously futile effort to escape his prison and consequent question/statement, upon which I reflected as I wearily pulled my shell up onto the dock to keep it from being slammed repeatedly by the waves washing over what little freeboard remained.
Edited for family fare, "But I tried, didn't I?  At least I did that.'
And, because of that, Chief (Will Sampson), one day would.
What are we attempting, even failing, that others one day might?