Did you read the big news regarding Chambers Bay Resort? Pierce County has reactivated their 2008 plan for developing a resort at Chambers Bay Golf Course in University Place.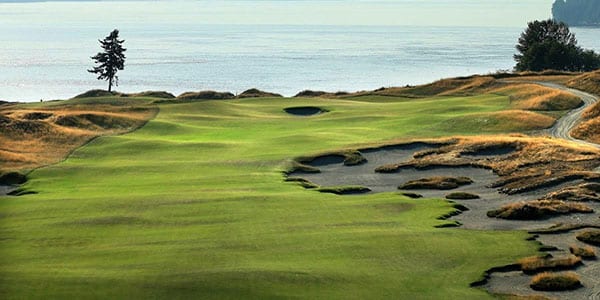 Chambers Bay Resort is nothing but positive news, but as my high school pal, Larry King, and I sat drinking espresso at the Barnes and Noble Starbucks, a known gathering place for intellectuals, we got to wondering what would draw visitors to a resort in University Place?
Larry and I did some brainstorming resulting in a Top Dozen List of attractions. After careful examination of our tour titles and descriptions one should gain an appreciation for the excitement our region will be able to generate utilizing the proposed Chambers Bay Resort as a catalyst.
Visitors could hop on the Chambers Bay Resort tour bus and seek maximum entertainment by touring any one of the following big draw reasonably priced attractions.
Pierce County Sewer Treatment Plant Tour: Tiny souvenir bottles of treated sewer water could be given to each resort visitor with a written warning label, DO NOT OPEN. A tiny bottle of sewer water, not to be confused with those tiny bottles of toilet water, is unique and would leave each visitor flush with memories from their resort experience.
Western State Mental Hospital Tour: Western State Hospital, Washington State's largest non-accredited psychiatric hospital, offers fascinating local history dating back to 1849. Conversations between visitors and patients are always memorable. Conversations with state authorities might well be equally memorable. As an added highlight, visitors will never forget the experience of watching psychiatric patients scrambling towards the tour bus door in an effort to bum-rush their way to freedom.
The Green Circle Trifecta Tour: This tour costs a little more, but it includes so much more. Stop 1: An early established Tacoma Legal Pot Shop located next to Mikie Burgers and across from the Tacoma Dump. Stop 2: The Tacoma Dump where visitors will work up a big appetite for the third stop. Stop 3: Mikie Burgers. Because the first stop is the pot shop stop, the balance of the stops will seem so much more vivid and the burgers will present visitors with an out of this world flavor.
48 Hours – Trading Places Tour: Visitors will start their tour with an inside look of the Pierce County Jail where they will be warmly greeted by the Sheriff of Pierce County. After leaving the Sheriff, visitors will remain inside the jail for a 2 hour welcoming cocktail party featuring genuine prison made white thunder, a whiskey brewed from the still hidden in the laundry-room. Visitors and prisoners will then pair off for a 48 hour prisoner exchange called "Trading Places". The resort visitors will stay inside the jail for 48 hours with all the rights and privileges accorded a prisoner including free prison food. The prisoners will board the tour bus and take over the resort visitors' rooms for 48 hours where they will, for the first time in their lives, learn about the chocolate-on-the-pillow resort lifestyle. It is the Sheriff's hope that Trading Places will dramatically cut the recidivism rate. Resort visitors should choose their prisoner with care. If the prisoner fails to board the tour bus for the return trip to the jail, the resort visitor will be obligated to finish the prisoner's sentence.
Homeless Camp Tour: Where visitors can learn to ignore any complaints they may have related to their resort living lifestyle such as having to pay exorbitant prices for the no-host bar.
Graffiti Tour: all produced by homegrown gangsters, thugs and skateboarders in the name of creative artistic youthful expression.
Washington State legal Pot Farm Tour: Where visitors will learn the new meaning of our state slogan, "Washington – The Evergreen State". During good weather, the bus windows will be lowered so everyone along the bus route can enjoy the free legal pot farm samples too.
Life Saving City Action Tour: Visitors will do a Hollywood style tour of homes where they can view Lakewood rental properties. Visitors will see firsthand the dramatic and downright amazing life-saving results of our Lakewood City Council's newly inaugurated genius plan called Rental Registration Safety Inspection Program.
Loose Pit Bull Watching Tour: Similar to whale watching, visitors can treat themselves to observing pit bulls from the safety of a bus, while the pit bulls run wild in their own natural pit bull habitat. This tour is patterned after the Northwest Trek concept, so the pit bulls roam freely while the visitors sit inside a cage.
Lakewood Library & Homeless Camp Tour: Resort visitors will be able to check out a new social phenomenon which combines local libraries with homeless daycare camps. Libraries are now becoming saturated with a smell force which is succeeding in driving taxpaying patrons out of local libraries. Resort visitors will be able to catalog the homeless library tour among their most memorable Chambers Bay Resort olfactory experiences.
Mama Stortini's Tour: Visiting city planners, city managers, college students and professors along with standup comedians will all enjoy flocking to the very site of the old Mama Stortini's Restaurant, where University Place City Council eradicated one of the most popular and successful businesses in the city. It is a particularly notable that University Place was able to kill Mama Stortini's years before they actually needed the space for their proposed building expansion clearly demonstrating that government, unlike business, need not pay attention to the cash flow management concept.
Curran Apple Orchard Park Tour: There is nothing that can compare with a resort bus full of tourists spending half a day at Curran Apple Orchard Park watching apples fall off the trees.
We challenge you to think of some additional attractions for the proposed Chambers Bay Resort. Try as we might, the 12 attractions above are all Larry and I could come up with. I should hasten to disclose that Larry and I may be hampered by the fact that we both graduated from the same high school long before there were any educational minimum Common Core State Standards.
When you make your resort reservation, call early and be certain to request a room with a view of the Pierce County Sewer Treatment Plant.