The claw hovers over the cute little stuffed toy hamster. Descending via joy-stick control, the claw pinchers close around the hamster's head, snatching him away from his friends, fetching him closer and closer to dangle over the chute serving as the exit that will permanently extricate him from his enclosed glass prison to enter a new world where he'll soon be forgotten.
However, at that exact most inopportune of moments, the claws inexplicably open and the highly-prized critter rejoins his pals to the chagrin of the sweaty-palmed mom who has spent her last of several dollars in an attempt to appease her two-year-old who, in turn, is now beside himself (where one was already a handful) in expressing – loudly – his displeasure which, in turn, drowns out the joyous laughter of all the stuffed animals – or perhaps that's the claw machine's programmed sound mocking another loser.
Far-fetched?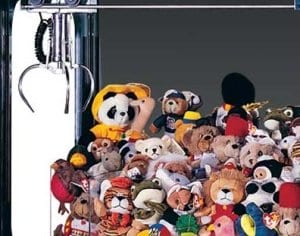 Perhaps a hamster's-hair but, to hear New Jersey state Sen. Nicholas Scutari tell it, such claw games "target young children who think they can easily snatch a big prize." Scutari has recently introduced legislation calling for more oversight of the claw game.
Targeting adults who likewise think they can snatch a big prize is called the lottery. And like those who believe not all is as it appears with the toy version – rigged claws for example that are suspicioned to have too weak a grip in relation to the size of the prize – there are folks like Jeff Sommer, writing in the August 12, 2016 New York Times, whose skepticism of recent billion-dollar jackpots was confirmed: they're "engineered to drain your wallet."
"The high frequency of enormous jackpots results from skillful planning, says Salil Mehta, an independent statistician. 'This was deliberate,' Mr. Mehta says. 'The jackpots are growing very rapidly, and at a certain point when the jackpot rises into the hundreds of millions of dollars, there is a buzz, and people start betting much more.'"
Who are these people buying tickets of state-run lotteries, 96 percent of which tickets results in having "simply kissed (their) money goodbye"?
Two-year-olds turned twenty-somethings evidently.
"Perhaps as many as 50 million are swallowing net losses that average $1,000 a year," estimates Sommer.
That's sobering. Or should be.
"That's a lot of money for a lot of people," observes Sommer, "and over a lifetime it could make the difference between a comfortable retirement and utter penury."
It should go without saying but Cameron Huddleston says it anyway: "If you're trying to spend less so you can save more, there might be some obvious mistakes you're making with your money. For example, you're likely losing a lot more than you're making if you're gambling at the casino every week."
Well, duh.
To counteract and cut the losses, there's "the scientific way to win in Vegas" which cautions against the "three mistakes people make at casinos."
Whatever is advocated to win, really the big three mistakes people make at casinos in order not to lose should be: entering, staying, and spending, especially forking over money at the craps table that might have gone toward food for the kitchen table, or for that matter rent or milk or diaper money.
From claw machines catering to two-year-olds, to mega-million – even billion – dollar jackpots clawing at the wallets and purses of the parents of two-year-olds, businesses and especially governments small and large are complicit. The "do no harm to (their) citizens" banner flying above city hall is really so much blather given government's appearance as "promoting and benefiting from activities that are surely harming the life prospects of many people."
Photo credit: "How to beat the claw machine."