Yesterday, presidential candidate, Donny Trump, announced that he asked Lakewood's own favorite son, Joseph Boyle, to serve in his administration as The Great Wall of America Czar. Trump reiterated, "There will be a wall."
Donny stated in a press conference he knows Boyle is a GSD (Gets Stuff Done) guy. He wanted to gain Boyle's commitment to serve our country under the Republican banner even before the presidential election results are counted. He is jumping the gun with Boyle for two reasons. 1. Donny Trump is a confident kind of guy who knows he will take the White House by a landslide. 2. Donny Trump heard Hillary Clinton's people were talking to Boyle's people.
Boyle agreed to make a preliminary fact finding trip to China in late August in an effort to locate and meet with descendants of the original Qin Dynasty who began construction of the Great Wall of China in the year 221 BC.
Boyle's goal is twofold. First Boyle will determine if surviving family of the Qin Dynasty have the original architectural drawings for the Great Wall of China. Secondly Boyle will be looking for helpful building tips that may have been passed down through family oral history. Anything learned may well shed light on how to build a similar great wall in America.
Trump tells us The Great Wall of America might will serve as a tourist attraction thereby bolstering the US economy from both the construction process and tourist angle.
Ironically, Trump has projected that 85% of the tourists visiting the wall will be Mexicans on their way to America.
While the Democrats have flatly stated the Great Wall of America will be too expensive to build, Trump has countered with his plan to use illegal Mexican aliens as workers to construct the Great Wall of America. Trump went on to state that Mexicans are hard workers and they work cheap.
Trump's plan to deport all illegal aliens will not begin until after the Great Wall of America ribbon cutting ceremony.
Trump is confident The Great American Wall will work to control illegal immigration. He simply points to the Great Wall of China and notes there are no illegal Mexicans flooding into China: proof positive that a wall in America will work.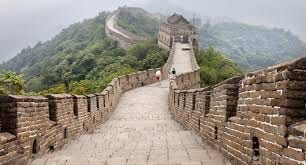 Later in the day Hilly Clinton, not wanting to be TRUMPED, held a coast to coast Skype conference with Joe Boyle. She boldly announced that she has high hopes Boyle will be willing to head up a new Federal program she plans to inaugurate once she is in office. The program will be called The Federal Rental Registration and Safety Inspection Program, (FRRSIP). While many city programs similar to her proposal have been challenged, Clinton states her approach will be bullet proof.
Hilly has no concerns about violating anyone's 4th Amendment rights because her Federal Safety Squad Inspection Teams will always enter through the back door of the rental property.
Anyone fearful they are about to have their 4th Amendment rights trampled upon typically visualize the government coming through the front door. Front doors are generally for government to breach and the back doors are normally reserved as an escape route. Hilly is thinking outside the box with her back door policy. It is a genius move. Any good politician can always figure a way to violate the constitutional rights of Americans, with no one the wiser.
There you have it. Another day in politics. Of course, between now and the presidential election, anything can happen.
If you want to be a part of this circus, be sure to vote on Tuesday, November 8, 2016. You do not have to vote for the candidate you like the most. You can vote for the candidate you dislike the least.
You may be asking yourself, "Why does Joe Boyle refer to Donald Trump and Hillary Clinton as Donny Trump and Hilly Clinton?" Think about it for a moment. Thats right, Joe Boyle is what we refer to, in power circles, as a Washington insider. In fact Boyle knows Amy Wilkinson. That explains everything.
If neither political post pans out for Boyle, he has pledged to help Lakewood City Council build a giant wall around the City of Lakewood to keep the slumlords out.
If you believe everything written in this article by Joe Boyle in 3rd person about Joe Boyle along with believing Donald Trump's and Hillary Clinton's campaign rhetoric, then Joe Boyle declares, you are fully prepared to help determine who will become our 45th President of the United States. Vote early. Vote often.