Recently I published several articles highly critical of the City of Lakewood's proposed Rental Registration and Inspection Safety Program.
Some think I am critical of City Council and city staff. I am not. I am focussed entirely on exposing why the Rental Registration and Inspection Safety Program is a harmful and unfair idea.
I am not going to discuss the rental inspection idea in any further detail today.
Instead I wish to spotlight City Council and city staff in a positive manner.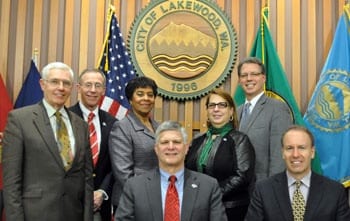 First, City Council was not obligated to hold a public hearing(s) regarding the Rental Registration and Safety Inspection Program. Nonetheless, they took the high road and volunteered to host one or more public meeting(s). We should commend City Council for making this effort to promote open communication with Lakewood citizens.
We have about 60,000 citizens in the City of Lakewood. Only 20 or so citizens attended the July 5, 2016, hearing. Low citizen involvement means City Council might have to make their decision in a vacuum. While City Council can make every effort to make themselves available, they cannot be held responsible for a low level of citizen involvement.
I commend City Council for doing their part including doing more than they were required to do.
Secondly, during my process of attempting to stimulate interest, dialogue and concept analysis, I received a written communication from city staff member, Ms. Heidi Wachter, City Attorney.
With Ms. Wachter's permission, I am sharing her communication with the citizens of Lakewood because I believe this short communication speaks volumes regarding City Council and city staff's positive effort to work with a constructive intelligent process.
Ms. Wachter's quote:
"Thank you for your participation in the process. The Council has set additional time to discuss this at the Study Session on July 25. If an ordinance is proposed for a vote it looks like that will happen on August 1 (although it could be bumped again for further consideration and discussion or never brought forward at all). The Council appreciates the time people are taking to provide insight into different perspectives on this and are taking it all into account as they study the issue. We are currently going through everything to make sure we have provided information as requested and will continue to take input throughout the process.
Thanks again for your thoughts on this.
End of Ms. Wachter's quote.
There are two main points included in Ms. Wachter's email to me.
City Council and city staff decided to take additional time to explore the pros and cons of their proposal and to give more time for citizen input.
City Council and city staff elected to stave off their decision date of July 18, 2016, to provide more time for research and citizen input. City Council does not appear to making a rush to judgement. The new projected dates are included in Ms. Wachter's email quoted above.
Although admittedly my articles are frank and blunt regarding the proposed Rental Registration and Safety Inspection Program, do not be misled into thinking I do not appreciate our City Council and city staff. We have some excellent people doing what some might consider a thankless job. I, for one, appreciate them and I am happy for their service.
With that being said, know that they are waiting, right now, to hear from Lakewood citizens regarding the Rental Registration & Safety Inspection Program proposal. If you do not speak up now, you will have little right to complain later.
Do your part so City Council can equip itself to make the best possible decision on this matter.
If you wish to contact City Council, click my link "City Council" to be directed to their email addresses.