If the City of Lakewood implements their proposed Rental Housing Safety Inspection Program, they will be capitalizing on tactics previously used successfully by Adolf Hitler. Adolf always liked to target particular groups of people who could not effectively speak up or defend themselves such as those with mental disabilities, Jews and Gypsies.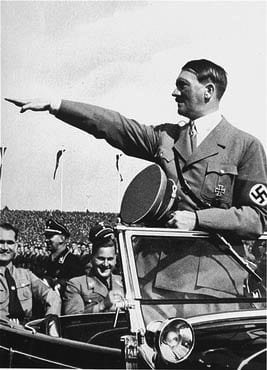 Others, who were not members of a currently targeted group thought they would be safe. So what did most of the safe-group individuals do? Nothing,
Our modern day City of Lakewood scenario has our city council considering a program that will target landlords, property managers and renters, three unorganized and for the most part small or non-groups who have a difficult time speaking up or defending themselves.
The city tells us that they will not and cannot target home owners. So we home owners can feel safe. Because we are home owners it easy for us to think, this is not our problem. Of course anything can change. Did you ever think you would see the day when we would allow men in women's restrooms and showers? Anything can change including implementing safety inspections in private owner occupied homes.
First it is the other guy government goes after. After we let that happen then government comes looking for us.
Folks who are not landlords, property managers or tenants feel safe right now, because they are not members of the three groups targeted by the city. So what are most of the non-targeted individuals doing about this today? Nothing, just like in Hitler's day.
The city tells us that forcing their way into tenant homes against the tenant's will is not a 4th Amendment violation. That remains to be seen. There are lawsuits and legal appeals cropping up throughout our country over this very issue.
Adolf Hitler authorized his storm troopers to force their way into private homes. If adopted, our city will authorize their City of Lakewood Rental Housing Safety Inspectors to force or coerce their way into private rental homes. In some jurisdictions the consequences for not allowing the inspector to violate your right to privacy may include red-tagging your home as uninhabitable or cutting off utilities. Like Hitler said, "We have our ways!"
While I recognize my Adolf Hitter analogy may tighten some jaws, is there not a good deal of similarity between Hitler's tactics and the plan proposed by our city? If the city fails to make the right decision on this issue, a good number of innocent landlords, property managers and tenants will lose freedom, privacy and money.
For those who might consider my above description to be nothing but hyperbole, let me lay out just the facts.
Tenants already have resources in place and options that allow them to solve their own problems without impacting innocent parties.
Responsible landlords and property management companies do not need and do not want to be negatively impacted by the proposed Rental Housing Safety Inspection Program. They have done nothing to deserve such roughshod business busting treatment from the city.
Most tenants do not want city officials forcing their way into their rental homes. If the tenant wants an inspection, they can call the city and invite inspectors into their home. How would you feel if an inspection team from the city forced their way into your home today?
Regardless of ultimate court decisions, what the city is proposing has the same effect as a warrantless search and seizure; the same as a violation of the tenant's 4th Amendment Rights. The city may accomplish this warrantless search by highjacking the Landlord Tenant Law 48 hour right to inspect provision, historically reserved for use by the property owner or manager.
If the city were to choose to educate tenants regarding their tenant rights and existing resources, then tenants would know how to protect their own best interests including utilization of the Washington State Landlord Tenant Law.
Hitler started by targeting those with mental illness. He eventually applied his tactics to include more and more groups such as the Jews and Gypsies.
Why would the city not want to change the law and expand this safety program? They are talking about citizen safety; right? Home owners are citizens and they need to be safe. If they can start with rentals and then later expand to home owners, the city can grow their $175,000 annual cash flow to $350,000 a year without any increase in fees. Of course once established, the fees will increase.
When the city decides they are going to implement a Housing Safety Inspection Program that will target owner occupied homes, that will be when homeowners may wish they had spoken up to defend landlords, property managers and tenants.
Today it is them. Tomorrow it is us.