FREE COUNTRY: We live in a wonderful country that allows citizens to participate in their government, political campaigns and to vote. I support and cherish these gifts of freedom.
CHILDISH POLITICAL SIGNS: What I do not cherish is the juvenile grade school kiddie practice of posting campaign signs all over town. These signs are a visual blight and in some cases a danger to the very citizens whose vote the politicians seek.
I apologize to those who will rail against my next frank and judgmental statement. Any voter who votes based on the number and/or color scheme of a political sign(s) is an idiot and is too dangerous a thinker to be allowed to vote. That kind of voting behavior fairly well duplicates that of the voter who has had a lobotomy.
Signs tell us nothing substantive about a candidate other than who might have the most sign money and on occasion who might have a deceptive personality. Generally, we cannot really tell which candidate deserves our vote by looking at signs with only a few exceptions.
The sign game goes like this. The more signs a candidate can post, the more name familiarization a candidate can gain. The candidate with the most signs gives the impression that he or she is the candidate with the most money and power and in doing so tries to create the impression that they are the candidate worthy of your vote.
Dale Washam gained his post as Pierce County Assessor – Treasurer, in part, with a decades long game of sign posting. Some Washam signs were posted 24 / 7 for decades even when there was no election pending such as the sign on SR 512, that said something like, "Vote For Washam And Let Him Serve". Look how that turned out.
I have even seen deceptive campaign signs where the candidate's last name was emblazoned on the sign in huge letters, while the candidate's first name was so tiny and in such an imperceptible color contrast you needed a magnifying glass to see the first name. All of that because the candidate's father was a well known and highly respected politician. While the junior politician was not well known nor well thought of, he deceptively attempted to gain votes by riding on his father's good name.
I can't blame the candidates for playing the childish sign game. Unless everyone takes a united stand against signs, candidates are forced to post signs just to compete.
SIGN LAWS: Historically placing anything in the right of way including signs has been an unauthorized act. The exception is political signs. Yes, as is typical, politicians make laws, but always seem to exempt themselves from the rules they establish for the rest of us.
Politicians have the legal right to post their "Vote For Me" political signs in the right-of-way. In fact anyone caught removing or damaging political signs can find themselves in trouble with the law.
In some jurisdictions, if the sign has fallen over, it is considered trash and can be disposed of.
COMMON SENSE, COURTESY AND JUDGEMENT: While I lack the money and energy to change the law that gives politicians the legal right to post visual blight in the right-of-way, I am going to fight against politicians failing to use common sense, courtesy and good judgement in posting their political signs.
Any time I spot a politician failing to use common sense, courtesy and good judgement, I am going to react like The Lakewood Sign Watchdog. Maybe I should wear a cape.
Here are some of the common sense violations I will be looking for:
Political signs posted in or next to areas that have been beautified by our city or the former Keep Lakewood Beautiful organization. Linda Farmer has a sign posted in our landscaped area at 112th St SW and Gravelly Lake Drive SW. If her sign remains others will act out of the pact mentality and post their signs in the same area including in the lawn, causing a beautiful area to be trashed. Politicians give no thought to the safety and convenience for landscapers who must deal with trying to do their job with the impediment of all the signs in their work area. There is plenty of undeveloped right-of-way for political blight without destroying the look of our landscaped areas.
Political signs that knock walkers, joggers, wheel chairs and baby carriages off the sidewalk. I know that some will criticize me for being icky-picky or they will call me the "Sign Police". My critic's view may change after we end up with our first dead child or adult citizen caused by a political sign forcing the victim into the roadway. Then the familiar cry of "We have to do something to make sure this never happens again." will ring out loud and clear. I want to make sure tragedy does not happen the first time.
Political sign placement that is likely to injure citizens as they walk by.
Political signs that block line of sight for drivers thereby creating a vehicle traffic hazard.
DOCUMENTED POLITICAL SIGN COMMON SENSE VIOLATION: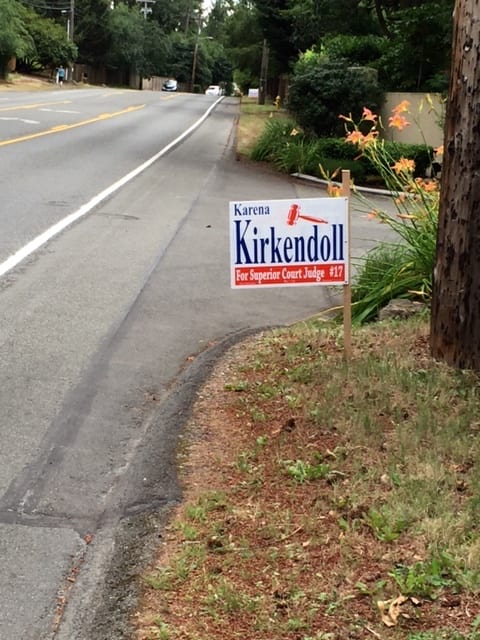 Enough talk. Let me show you what I am referring to. There are at least three Karena Kirkendoll For Superior Court Judge signs posted along Nyanza Road SW. Two of us voters were walking south on the east side of Nyanza when we came upon a sign blocking our path. Our choice was to turn around, leave the pathway and walk in the tall grassI or leave the path and walk in the street. We chose to continue walking on the pathway when my foot contacted the sign knocking it to the ground. I did not kick the sign. I just kept moving forward one foot in front of the other. Ahead I found another hazardous Kirkendoll sign that appeared to have been knocked over by a previous walker. Multiple other candidates have their signs in the same right-of-way and they are still standing, but they do not violate any of my common sense concepts described in 1 – 4 above. Most importantly none of the other candidate signs pose a physical hazard to voters.
On the west side of Nyanza is another Karena Kirkendoll sign that absolutely forces citizens off the walking and jogging trail into the roadway.
I find it ironic that while Kirkendoll might well be an excellent candidate for Superior Court Judge, she shows poor judgement and no common sense.
In actuality the problem I describe may stem from an over zealous campaign worker, but this is a case where that old saying fits. "The buck stops with Ms. Kirkendoll." Ms. Kirkendoll needs to educate her campaign workers to be more intelligent about sign placement.
If I base my voting decision on signs only, instead of other more intelligent criteria, I will vote NO for Kirkendoll because a Superior Court Judge must possess common sense and good judgement. A Superior Court Judge has to be concerned about decorum and the safety of our citizens.
While Karena Kirkendoll's political sign program suggests that she lacks the necessary characteristics to serve as Superior Court Judge, I will also be checking more intelligent criteria before making my final voting decision.