The toilet-cleanliness-requirement question, and other questions posed in this article, should be among those asked by Lakewood City Councilmembers of city staff before the Council votes July 18 to create a mandatory rental registration and inspections ordinance.
In the video by KIRO 7 News Investigative Reporter Jesse Jones involving a landlord/tenant complaint in the Laurel Gardens apartments located in the Woodbrook neighborhood-portion of Lakewood, presented by City staff as evidence in support of Lakewood's proposed Rental Inspection Program (RIP) during the Public Hearing July 5, 2016, why was the 4:03 minute documentary edited down to 2:54 with the result that a landlord-tenant problem was addressed but not the solution, the solution which was in fact included in the original March 16, 2016 edition when aired on KIRO? And who was responsible for this edited version?
City staff's presentation the night of July 5 at the Public Hearing showed pictures of rentals "that anyone would be proud to live in," said Lakewood City Attorney Heidi Wachter, a statement Wachter makes at the 43:25 minute mark of the video-and-audio recorded tape. What rentals were these? More specifically, while it may be true that anyone would be proud to live in them, could they? Financially? In other words are the rentals that are pictured actually affordable, regardless of their esthetics, given the low-income residents of our city whose income for basic housing needs may not match their ideal housing dreams? If the rentals pictured by city staff as 'preferred' are not in fact within the out-of-pocket capabilities of a large portion of Lakewood's residents, then is this even a fair – much less honest – comparison?
Given what's happening elsewhere that could quite conceivably happen here, not only should the Council demand answers but so should the answers be shared with the public.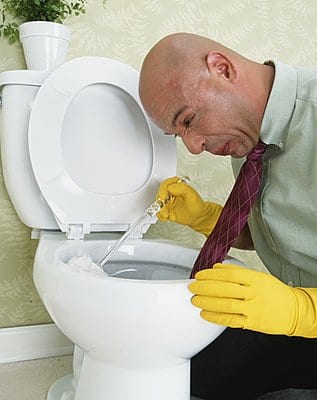 In Golden Valley, Minnesota the (toilet) paper trail is piling up against the landlord plaintiffs who the city has dragged into Appeals Court to defend their right to privacy – bathroom privacy among those rights.
Ironically, the article by Eric Boehm for "Watchdog.org" about the Minnesota court battle is dated February 8, 2016 – the same date of a letter from Lakewood City Attorney Heidi Wachter to the Mayor and City Councilmembers by way of John Caulfield, City Manager. In the letter, Wachter assures the readers that fears of "potential legal challenges such as lawsuits against the City" – presumably by landlords in Lakewood who might consider litigation over Lakewood's proposed Rental Inspection Program – are unfounded.
Lakewood has "transitioned," Wachter writes, "from a rental housing inspection program that no longer meets legal requirements to a legally compliant system."
As to legalities, Wachter appears to be within her legal limits.
According to the Landlord-Tenant Act, "Local municipalities may require that landlords provide a certificate of inspection as a business license condition." Lakewood intends to make inspections a business license requirement for those having rental properties.
Twenty-nine minutes and 20 seconds into City Attorney Heidi Wachter's PowerPoint presentation at the July 5 Public Hearing she stated that Lakewood's RIP "closely follows the authority granted by state law to conduct inspections on rental housing."
But then Wachter adds, "By using a broad grant of authority instead of a very specific detailed authorization, the ordinance gives the city the ability to tailor the program as we do the inspections."
In other words, 'is your toilet clean' would be as legitimate a question during the inspection as 'is the rental structurally safe?'
Lakewood's draft of the RIP check-list does in fact address toilet cleanliness: "Interior surfaces (shall be) maintained in good, clean and sanitary conditions."
Though RIP architects have maintained the RIP is for purposes of safety, somehow clean toilets; "suitable space to prepare food;" and "no peeling, chipping or flaking paint" appear more cosmetic than catastrophic.
"Rental Housing Safety Program" is what Lakewood titles its webpage dedicated to this subject.
That's what city officials in Golden Valley said theirs was. "'What's at stake is a simple matter of making sure we have safe housing that meets minimal standards,' Golden Valley Fire Chief John Crelly told WCCO-TV in Minneapolis."
But in Golden Valley (GV) the "simple matter" is now anything but.
When GV inspectors showed up at the Wiebesicks' rental for the required inspection – "all the way down to checking on the cleanliness of the kitchen and the bathroom as part of a license renewal process that all landlords must go through periodically – the landlords, and their current tenants, told them to go away."
The City sued. The landlords won. Temporarily.
The landlords argued that "the city of Golden Valley shouldn't be allowed to force its way into innocent people's homes. The city should have to provide evidence of wrongdoing before they're allowed to stomp through a private residence."
The judge agreed, ruling "that Golden Valley can't conduct inspections without a good reason."
The city had appealed to county court "seeking an administrative warrant to search the property. Unlike a criminal warrant, an administrative warrant does not require evidence of wrongdoing."
The District Judge – in affect – ruled the city's parsing of legalisms – the warrant – was, basically, without warrant.
"The mere fact that someone rents a home, rather than owns it," wrote Institute of Justice attorneys representing the landlords, "should not give the government the right to disrupt their life, invade their privacy and search every nook and cranny of their home—all without providing a shred of evidence that anything is wrong."
While who is allowed into your potty continues to be debated in now-not-so-Golden Valley, citizens in Lakewood – given abundant negative feedback acknowledged by the City and as here in this publication expressed in numerous articles and comments – continue likewise to pooh-pooh Lakewood's RIP.
Rightly so.