According to an Associated Press news release, "Washington's Superintendent of Public Instruction Randy Dorn said Thursday he will not run for governor."
It occurred to me after Randy Dorn's announcement that if I am to be responsible and courteous to my constituency, I should share my current thinking, so here goes.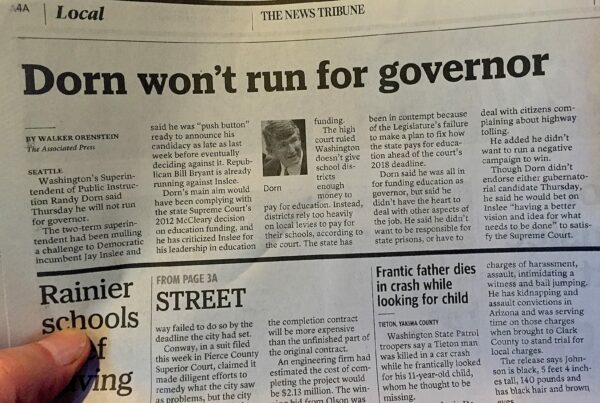 Joe Boyle won't run for governor. There are a number of reasons for my decision to drop out of the governor's race. The biggest reason is my answer to the question, "Would I want to live in state where Joe Boyle was governor?" Nope. I am too detail oriented (icky picky), too frank, too common sense, too action begets consequences and not politically correct enough to meet the needs of our hands off scardey-cat attitude possessed by many members of the general public.
Now, of course, if my name is entered as a write-in candidate frequently enough, I would feel obligated to serve.
The question remains is would it be possible for an independent like me to be able to do a better job in the elected position of Washington State Auditor?
Then there is our current presidential race to consider. If the three front runners asked the Joe Boyle qualifying question, "Would I want to live in a country with me as president?" there would be two drop outs and only one candidate.
If I do run for higher office, I think it might be wise to build my political machine by first running for City of Lakewood Dog Catcher.
Be sure to vote early and often. It is your opportunity to vote for either your favorite candidate or least repugnant candidate.