It was my privilege to be sent out into the hall by Mrs. Burton for disrupting her fourth grade class at Tillicum Elementary.
I'm sure it wasn't for the most flagrant violation of the rules she'd ever seen but rules are rules and teaching is that important and besides I am quite sure she had my best interests in mind in sending this recalcitrant student of hers out the door. (I think my dad may have heard same day about that too).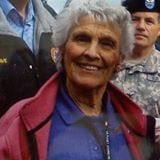 It's how we grow up, having teachers – and parents – that care that much, wanting to impact kid's lives to aspire to be all they can be which oftentimes means helping them discern not only why the math problem is wrong, but why their behavior is a problem as well.
Son Frank Burton, with his brother Jim, begins on Facebook, "Helen Jayne Rondeau 'Ronnie' Burton was born on October 25, 1920 in Duluth, Minnesota. Our beloved mom left this earth on May 13, 2016 at 95 years young. She was a loving wife for 69 years, a wonderful mother and grandmother (and was soon to be a great-grandmother)."
A Tillicum resident since 1947, "Ronnie shared her passion for music with the 4th grade and kindergarten students (of Tillicum Elementary School). She shared her love of music for over 30 years with the children of Tillicum."
Not only a teacher, Mrs. Burton was also a molder and a polisher of so many who called Tillicum home.
For Mother's Day two years ago, Christopher Klein wrote in the publication "History in the Headlines," of the "The Two Mothers Who Molded Lincoln".
The man who would be president had instilled in him from the earliest days by his biological mom "the virtues of honesty and compassion." Following Nancy Hank Lincoln's untimely death when Abraham was but nine years old, step-mom Sarah Bush Johnston-Lincoln shortly after stepped in and picked up where Nancy had left off.
In young Abraham, Sarah "recognized a boy of tremendous talent and saw the diamond when virtually everyone else around this gangly, awkward boy saw the rough. That's what mothers do."
That's what Mrs. Burton did.
Less than a week after this last Mother's Day, Tillicum lost such an influencer of children. She was one of Tillicum's moms, a molder and shaper and polisher of many, many lives – especially young impressionable lives: those who recall fondly the memories of sitting in her classroom and walking the still-red-tiled, highly-polished halls of Tillicum Elementary School.
Picture source: Helen's Facebook page, used by permission of sons Jim and Frank.
"A memorial service will be held on June 11, 2016 at 1 pm at the Tillicum Baptist Church (located at 8415 Maple St. SW, Tillicum, WA). Reception to follow" (at the Tillicum Community Center, 14916 Washington Ave. SW.
As "she planted lots of flowers and volunteered at the American Lake Veterans Golf Course for over 25 years with Red (her husband of 69 years) where there is a bench on the 8th hole in mom and dad's honor," writes her sons, "donations in her name can be made to: 'Friends of American Lake Veterans Golf Course' PO Box 99608, Tacoma, WA 98496."