Last week my daughter rolled in on a big jet from the East Coast. We met up the next morning before breakfast at Java Joe's, an exclusive Lakewood coffee spot. Actually, Java Joe's is so exclusive, only a few people have ever been there. If truth be known, Java Joe's is 5' of kitchen counter space plus one drawer and one cupboard in my wife's kitchen where I learned to concoct espresso beverages from retired professional Starbucks barista, Edra Zook. Thats right. I am an Edra Zook graduate.
So we are sitting around enjoying some gourmet cuban espresso beverages when she presents me with what looks like a giant bookmark with a message that reads, "Got Traffic Tickets?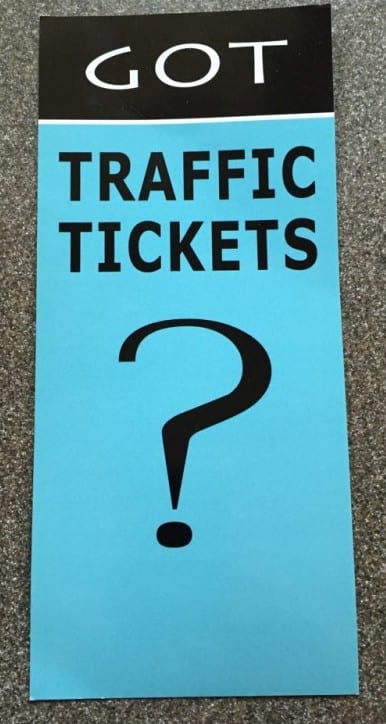 My daughter is a published writer. We share writing in common. The only difference is she knows grammar, spelling and punctuation. My style is to try to write fast enough hoping my readers will not notice my writing flaws.
Okay, back to the bookmark. She challenged me with, "I dare you to see if you can you write a story about the bookmark, before I return to the East Coast."
I can. I can. I know I can.
"Got Traffic Tickets?" Here goes.
1934 Ford Fordor rear view mirror.
As a retired police officer, I wish to present some surefire tips on how you can avoid getting traffic tickets.
Rear view mirror technique. – At all times, drive like the cops are in your rear view mirror.
Do not attract cops by driving with defective equipment such as broken windshield, defective lights, defective exhaust, bald tires, broken mirrors, missing mud flaps when required or protruding tires to name a few.
Use your turn signal, not as you turn or change lanes, not after you turn or change lanes, but a minimum of 100' before you start the maneuver.
Always keep a safe distance away from other vehicles by using the 2-to-4-second-following rule when traveling or a car length or two when stopped.
Do not speed. Some traffic cops are omnipresent or in plain English, they are everywhere.
Okay, I did it. My story is finished. I am submitting it to publisher, Ben Sclair, while my daughter is just now at 35,000 feet heading back to the East Coast.
The important thing here is I met my daughter's challenge. I have written a story out of the thin air before she landed on the East Coast.
Are you proud of my accomplishment? I know my daughter will be.