I have a couple of serious life and death stories I am not going to share with you today. Those stories date back to c1972 and c1985. Both tragedies occurred in and around the intersection of 75th St SW & Bridgeport Way SW.
Today's upbeat story is titled, Passing The Buck. My story title is either clever or corny, but my intention is to capture your attention and to help you forget national news.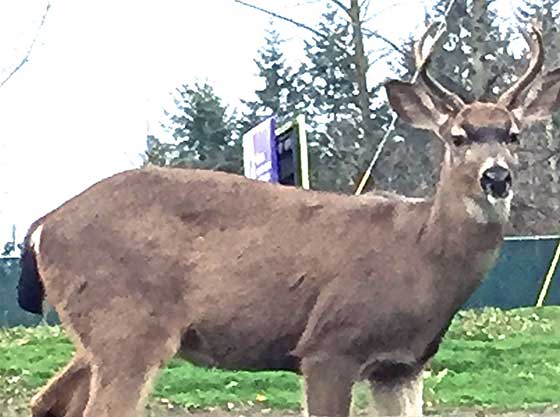 A few days ago I was driving through the same intersection when I spotted a two-point buck right next to Bridgeport Way SW. This glorious animal was grazing in the grassy area next to the professional building on the SW corner. It is not totally surprising when I see a doe. We see does (plural of doe, not does like she does laundry) and fawns all the time. A buck, on the other hand, is a bit unusual.
I pulled right into the parking lot and shot the deer.
Not with a gun! I shot the buck with my iPhone 6. Check out the photo I took as I passed the buck.