Did you read the recent article in the News Tribune and The Suburban Times where political candidate, Ben Gonter, promotes the idea that having a four year college degree should be mandatory for a political candidate to be properly qualified to serve in pubic office?
While I am not going to comment on the merits of candidate, Mr. Ben Gonter or incumbent, Ms. Marie Barth, I do feel compelled to share a well founded concept that refutes Mr. Gonter's suggested mandate in which he would require a four year college degree before a citizen would be qualified to serve on our Lakewood City Council.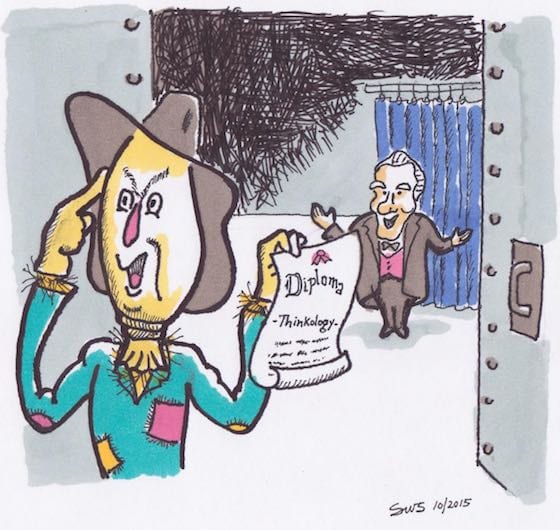 I support Mr. Gonter's idea that there is value in education as is evidenced by my having spent four years earning a Batchelor of Arts in Business Administration degree from the University of Puget Sound (UPS) in c1966. While a student at UPS, I had the good fortune to have Dr. John Prins as my professor and college advisor. Dr. Prins was an internationally respected, highly intelligent educator, who held multiple college degrees including a law degree. Sir John Prins was Knighted by the Queen of the Netherlands. Dr. Prins had a vast amount of life experience, stretching from America to Siberia, to go along with his college degrees. What I am saying is Dr. Prins' opinion regarding the value of education was extremely credible.
Mr. Gonter's recommended mandate suggesting that otherwise qualified citizens not be allowed to serve on the Lakewood City Council unless they possess a four year college degree reminds me of one of Dr. Prins' teachings that shines light on two valuable types of education.
Allow me to quote Dr. Prins. "Joe, there are two kinds of learning. One can learn from the life of books, which is what can happen while attending school. One can also learn from the book of life, which is what you learn while living and experiencing life. Both learning sources can be equally important. Either can trump the other. Neither is superior to the other.
You can spot individuals with a college degree or multiple college degrees that are quickly proven to be fools. These individuals look great on paper, but do not function well in real life. They are only capable of making a bad problem worse.
On the other hand I have known individuals who lack even a high school education but are obviously intelligent and accomplished individuals loaded with knowledge, common sense and good judgement. They are thinkers and achievers. You want this kind of individual on your problem solving team.
While I am not saying Mr. Gonter is an idiot, the fact that an individual has multiple college degrees does not mean he is not an idiot.
While I am not saying that Ms. Barth is a genius, the fact that she does not have a four year college degree does not mean she is not a genius.
Here is something else to think about. Many schools give college credit for life experience. So if we combine Ms. Barth's Associate Degree with her life experience, perhaps Mr. Gonter should refer to Ms. Barth as Dr. Barth.
Yes, I am a staunch supporter of college education and following that, life-long learning. The other side of the coin suggests that in many cases you have to wonder when people brag about how many college degrees they have. A collection of college degrees may just indicate that the degree collector is a "professional student" who lacks a sense of direction. Lacking a sense of direction leads to wasted time and money in college while hiding from real life.
All I am saying is a college degree(s) or the lack thereof should not be the sole determining factor in deciding which candidate to vote for.
Let me close by paraphrasing one of Delta Blues Harmonica player, RJ Mischo's CD album titles. After all it is possible to possess  "Knowledge You Can't Get In College".