Jim Taylor is very, very ill and I think sometimes we feel in crises like this that we wait too long to say the things that need to be said and so here, on behalf of the Tillicum community Jim:
We love you.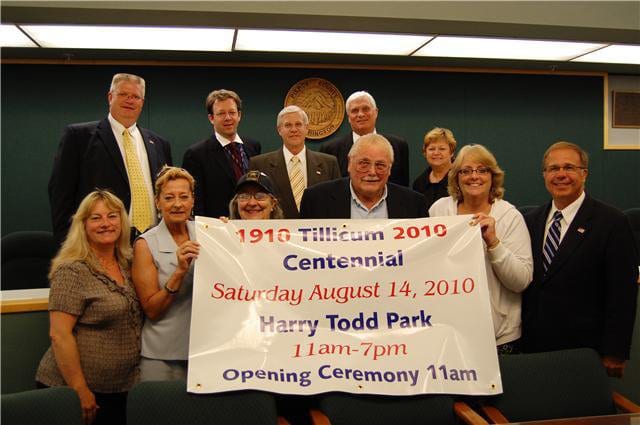 A business, and much more a person such as Jim Taylor, described as brick-and mortar is one that has a physical presence and offers face-to-face customer service.
Permanence, substance and friendliness – "appealing interior design" – as opposed to say transitory, on-line shopping, are characteristics of a brick-and-mortar type store-front establishment and serve as apt descriptions of Jim Taylor whose day job was literally laying brick and mortar for all of his life.
When not pouring concrete however, Jim pours his life into the Tillicum community he so loves.
Jim's 'storefront' is his home where our Tillicum Woodbrook Neighborhood Association Board meets every month year after year, and while we all have different titles, like the adage "when E. F. Hutton speaks, people listen" it is clear in these meetings it is Jim upon whom we all depend for insight, clarity, and thoughtful expression whatever the issue on our agenda.
Same way you'd lay brick I imagine: carefully, with an eye to artistry and always with the end-goal of finishing completely what you started.
That's Jim: artist, builder and rebuilder, innovator and finisher.
When the driver of a car accidently hit the gas pedal instead of the brake in approaching the parking spot at Tillicum Baptist Church, the vehicle entered the auditorium through the brick wall where no door existed. While there were no injuries – other than significant chagrin on the part of the person behind the wheel – bricks, shards of broken glass, wood and plaster were scattered everywhere.
The church called on Jim. In short order the wall was rebuilt so that today you'd never know.
There's perhaps a lot you'd never know about Jim. He is as happy to assist quietly Habitat for Humanity in rebuilding porches for needy folks in the Tillicum community as he was pleasantly surprised to be accorded the title "Mr. Tillicum" when he served as Master of Ceremonies for Tillicum's Centennial celebration.
Though the advent of E-commerce has made the brick-and-mortar business model practically obsolete, there will always be a need – a critical need, an irreplaceable need – for one such as Jim Taylor in AnyCommunityUSA.
Revitalization – if it is to be effective with long-lasting, even eternal, impact: leaving a legacy that far outlives the layer of bricks himself – is always dependent on one such as Jim Taylor.