I recently invented a prototype high tech device called the Neg-O-Meter. The Neg-O-Meter operates much like a Geiger Counter only instead of measuring radiation, it measures human negativity.
I used a Homeland Security approved bungee cord to attach my Neg-O-Meter to a radio controlled drone which I flew over the entire city to determine where the strongest source of negative attitudes radiate from. I did not fly my drone over the kids playing soccer at Ft. Steilacoom Park, because it is dangerous and besides, kids playing soccer are not going to be negative.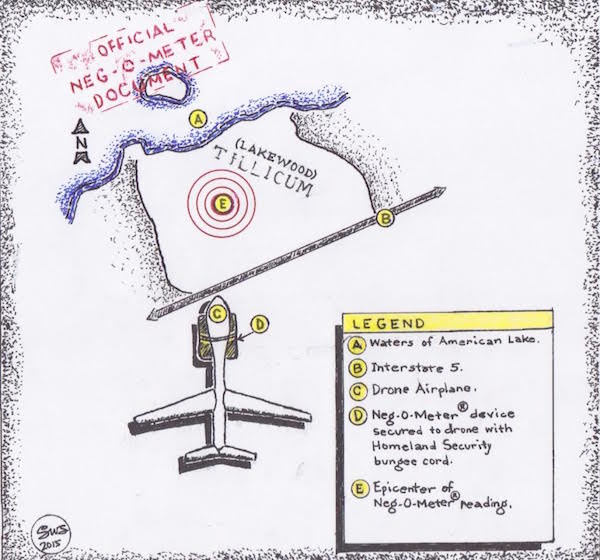 The Neg-O-Meter superimposed a solid 10+ Bulls Eye on Tillicum.
On July 2, 2015, a wonderful historical article appeared in The Suburban Times titled, Galloping Gerties Galloping for 63 years.
Several of us could not help but notice a line in paragraph three that read, "Please note we still consider ourselves Tillicum and not Lakewood"
Those ten little words capture Tillicum's longterm attitude.
The sentence caused one word to come to mind; ingrate. The dictionary definition for ingrate is "a person who does not show proper appreciation or thanks for something : an ungrateful person".
While I support Tillicum having community pride and free speech, with community pride and free speech comes a responsibility to make a good faith effort to muster a positive working attitude and constructive working relationship with the City of Lakewood. Tillicum has been a part of our city from day one when we incorporated in February, 1996.
The City of Lakewood has reached out to Tillicum with helpful and kind hands in so many ways, including personal efforts, programs and a continual flow of truck-loads of money.
Tillicum soaks up a disproportionate share of police, fire, library and city services when compared to their contribution to the City's income. While we never complain about subsidizing Tillicum, the only thanks we get is listening to Tillicum residents condemn, complain and criticize the City of Lakewood.
Tillicum constantly promotes the fact that Tillicum residents are poor. While not all Tillicum residents are poor, one advantage to being poor is you get free stuff that financially successful citizens pay for. According to the voice of Tillicum, the city, the city council, city staff and police department can never do anything right.
I think it is destructive when a few residents speak continuously and loudly for all the people of Tillicum promoting the idea that the City of Lakewood is always wrong and all city actions are suspect.
My years of experience with Tillicum force me to conclude that there are two, possibly three types of Tillicum residents.
Type 1. Silent residents who appreciate the City of Lakewood, but never voice any positive comments or thanks. It should be noted that the Type 1 Tillicum resident is much like the fabled Sasquatch. No one has seen or heard one up close so they may not exist.
Type 2. Silent residents who hate the City of Lakewood, but never say anything because there is such a strong voice of opposition and hate already in place speaking for them.
Type 3. The outspoken ungrateful residents who hate and complain about everything and everyone associated with the city over and over and over.
Tillicum, which is located in the South part of Lakewood, reminds me of the deep South. For many Southerners, the Civl War is not over. Their racial hatred continues to this day like a societal cancer. Adult haters brainwash their progeny to grow into future haters.
At onetime, when we first became a city, I thought when the old haters died off there would be peace and constructive cooperation between the city and Tillicum. We could work together like a team. That probably will not happen. I am witness to second generation city-haters taking over the roll of chief hater after the death of their city-hater parents. The replacement haters simply continue on with Hitler-like tactics of constant negative propaganda.
I am quick to admit that our city is not perfect. Free speech allows all of us to make critical comment about city actions.
Conversely, most individuals and departments in our city work hard to make our home, a better, safer and nicer looking place to live.
If Tillicum could secede from the City of Lakewood they could build a 12 foot wall around Tillicum known as the Great Wall of Tillicum.
Tillicum could form their own police department with an innovative policing policy called "Cops without guns."
The Tillicum Police Use of Force Policy could read, "When our cops, without guns, are faced with life threatening situations that place cops and citizens in jeopardy, created by people who refuse to comply with laws, the cops are to retreat to the nearest donut shop and let the locals sort it out"
With the cops out of the way, the criminal element could take over Tillicum, again. Eventually Tillicum could disband their police department and their police complaints would be over.
Washington State annexation and incorporation regulations will probably prevent the Tillicum dream from happening.
Tillicum has technically and legally been a part of our city for close to twenty years. It is time for Tillicum to recognize that they are a part of the City of Lakewood and to stop the destructive divisiveness and hatred. If Columbia, South Carolina can remove their Confederate flag, Tillicum can take steps to become a positive part of the City of Lakewood.
If there are any silent Type 1 Tillicum residents out there who agree Tillicum needs to change their course toward a working relationship with our city along with a balanced flow of positive and negative free speech, please speak up.
Lastly, if you do not like living in the City of Lakewood, moving may be an alternative solution worth considering.