Have you ever heard of lint art? I never had until recently when my friend, Edra Zook, who recently retired from Starbucks #313 after ten years service, showed me her latest artistic creation. What you see was 20 years in the making.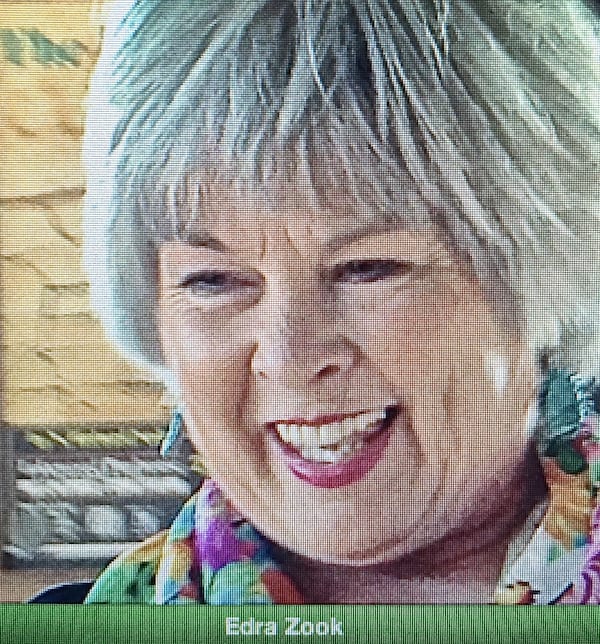 Edra's creation depicted in my attached photo (below) is classified as multi-media artwork. The area above the fence is water color. The small girl's face, arm, hand and yellow flower are cut from a photograph so what we are seeing is, in part, an image of Edra's real granddaughter.
The red hair, blue vest, blue hat and flowers are made from different colored lint. This is lint like you clean out of your dryer. I have been throwing my lint away for 60 years. Obviously that was a big mistake. Edra has bags of lint separated by color.
When you look at the original artwork, the areas made from lint are three dimensional. You can see the depth. Everything made from lint is true-life lint color from Edra's lint collection except the yellow flower which was changed to yellow from a painting process.
As I sit here thinking, I am wondering if Edra's lint collection should be brought to the attention of Ripley's Believe It Or Not? Hey Ripley is into lint. Check out the Ripley's Believe It Or Not Art Collection.
Edra plans to make a limited number of copies should you desire to own one. She is also going to create writing cards from this image.
One of the reasons I like Edra is because she is a good human being. One example of her love and caring for others was recently demonstrated when she volunteered to create a custom tee-shirt for a non-profit organization that supports the effort to cure muscular dystrophy. People bought the shirts and after the first 16 shirts, which paid the shirt company, 100% of the shirt sale proceeds went to help with the cure. Edra received not one nickel for her time and effort. She told me her reward was the intense positive feeling she felt from helping others. Edra, I am happy to share my planet with you.
If you are interested in Edra Zook's Lint Art, Edra Zook's Crash Art or any of her other artistic endeavors, contact her at ZedraEdraZookzedra@outlook.com.