Just in time for the BBQ season, the Environmental Protection Agency (EPA) wants to protect your lungs – and the environment – from backyard burger flipping.
The EPA is concerned (flipped-out) over the air pollution (saving the polar bears) caused by emissions (grease drippings) as the meat is turned.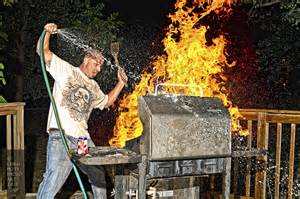 'As the meat turns' (not a reference to the soap opera with a similar title), "grease flare-ups" occur according to the agency whose focus with this project is upon "people" (not to mention the aforementioned polar bears), their "prosperity" (yours, ostensibly, not the EPA's), and "the planet" (ours, most likely).
Although, referencing the money matter, that the folks studying the hot-dog-roasting, hamburger-flipping, steak-turning, grease-dripping thing envision a "global application" of the apparatus being designed by Berkeley college students (I mean, who else, right?) to cease-and-desist with the emissions, there's no doubt some will one day soon be doin' some serious chillin' from your grillin'.
A manual (seriously) for BBQ enthusiasts – would be "barbecue pit masters" – is planned to accompany the EPA regulations by which to ensure the planet is saved:
Step One: Before turning meat over, insert college-student-designed slotted and corrugated tray.
Step Two: Flip (the meat).
Step Three: Immediately remove tray (like when you use the credit/debit machine). Failure to immediately remove the tray will "result in over-heating and volatilizing" (words like this are why we go to college) the collected grease.
Step Four: (note to college team self since this is, after all, a draft. This Step Four should probably be Step One or maybe Step Two for reasons that should be obvious.) Turn on the filter and fan filtration system. Your BBQ must be equipped with a "secondary air filtration system which is composed of a single pipe duct containing a specialized metal filter and a metal fan blade." (Caution: Berkeley college students conducted repeated and exhaustive experiments and concluded that plastic filters and fan blades were shown to melt. Should you purchase a retrofit for your BBQ that is constructed with plastic components, cook your burger on a conventional stove and notify the EPA immediately.)
Continuing on: It is recommended that the drive shaft for the secondary air filtration system be "powered by an exterior electric motor with a chain-driven drive shaft which directly spins the fan blade."
Additional note (or two): It should be obvious – even for those who never attended college – the reasons for this added paraphernalia. 1. This is about saving the world, remember?
2. While "hand-powered cranks" may be substituted for the electric version, flippers and meat turners who are not hand-cranking the secondary air filtration system when observed by EPA officials watching through binoculars while perched in lift-truck buckets will receive Notice of Violations with fines of $1,000.
Enjoy your summer.