During Grim Reaper – Part IV we left off with the Grim Reaper bubbling with excitement as he held me in a headlock with my heart rate sinking to 19.
Somehow I managed to live through the night so the next morning they rolled me towards the operating room. As we drew near, the nurse instructed my wife to sit in the waiting area.
Once out of earshot, the nurse asked, "Joe, is she your significant other?" I said, "Yes, she is mighty significant. I met her in 1961 in high school. We married in 1966 and we still like each other."
The nurse responded with, "Woow! Are you kidding? You two seem like such a new couple." Apparently she could see the love and respect we still have for each other.
As I looked around the operating room, I bellowed, so all eight surgery staff members could hear, "Hey, I have never had a pacemaker installed before. Any of you ever put one in before?" They laughed, but got even telling me they had just read the pacemaker Quick Installation Guide while they drank their morning coffee.
In preparation for my surgery, I requested intravenous Jack Daniels along with a 45 round to bite down on. I got this idea for pain management from watching old John Wayne movies. I sailed through the procedure laughing and joking.
My friend at SWS Cartoons created a depiction of what I looked like the day after surgery.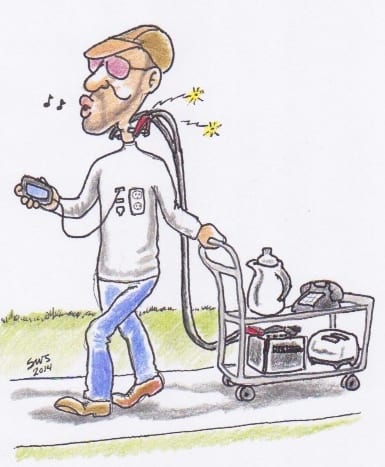 My Biotronic Pacemaker 1000 + is as feature laden as my baby sister's iPhone 6 +. Shall we play Find The Features? I will list them and you see how many you can find in the cartoon. Okay? Go!
Pacemaker USB plug for charging my iPhone 6. (Note: I could not afford the iPhone 6+ like my baby sister because I am retired on a fixed income.)
Pacemaker auxiliary plug which allows me to use my iPod to play the Blues on Pandora.
Pacemaker 110 outlet for running my toaster and coffee pot.
Pacemaker makes me a roving WiFi hotspot.
Pacemaker used to recharge car battery.
Pacemaker wall plug for landline.
Pacemaker GPS Husband Tracker. My wife can tell if I am at the office or the Office Tavern.
So there you have it. On November 3, 2014, I walked into Group Health close to death. On November 5, 2014, I walked out of St. Joseph Hospital with a ten year No Contact Order naming the Grim Reaper as the Respondent.
When my heart fails to produce electricity, my pacemaker takes over. My pacemaker works 100% of the time for my lower heart and 52% of the time for my upper heart. My old electrical system was shot which is surprising for a live-wire like me.
—————————————————
I hope you enjoyed this spell binding series. There is a talk by the folks who made Downton Abbey they may make a TV miniseries out of this mostly true story. Then there is the Pulitzer nomination for journalism we will want to follow.
Here is the important part. If you are dizzy, out of breath and unusually tired, do not wait like I did. See your doctor right a way and don't worry about your parking spot.
The medical staff said it was amazing I did not black out, suffer a heart attack or stroke or die. It was suggested my good luck was enhanced by my no-doper, no-smoking, no-excess-booze, healthy-eating lifestyle which allowed me to adjust to the low heart rate while standing in the shadow of the Grim Reaper.
If there is a power outage at your home, your burglar alarm still functions because there is a battery backup. My heart worked the same way. My heart had a power outage, but I did not die because the human heart contains a battery backup. The backup was enough to keep me alive for a while, but not enough to allow me to be a fully functioning human being.
Because of my pacemaker, I am no longer dizzy or out of breath. My energy and endurance have returned. When I use to take walks with my wife, I always felt like the emergency brake was on. Now I am able to walk unimpeded by any sense of resistance. Having oxygenated blood moving around inside is a real plus.
There are some restrictions. I will have to give up bar fights and many of my yard work activities. While I will have the energy for yard work, it is important to maintain 6" – 12" distance between my pacemaker and electrical and magnetic fields found around machinery.
Disappointing yes, but not as disappointing as being yarded off by the Grim Reaper.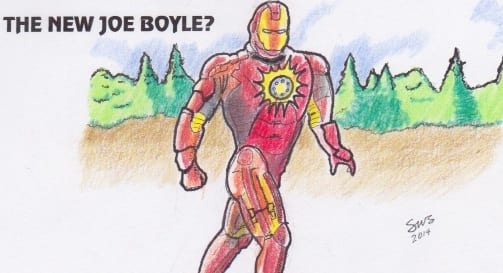 One final comment. There must have been 100 people who touched my life once I entered Group Health and St. Joseph Hospital. All of them — the janitor, security officer, parking valet, admitting clerk, nurses, interns, doctors and ending with the surgeon — were fabulous in terms of people skills, level of service, knowledge and compassion.
Thank you, Group Health Cooperative and St. Joseph Hospital for saving my life. For me every day past election day, November 4, 2014, is a bonus day to be appreciated.
Until next time, if there is a next time, let's enjoy the blessings of each day we are given.