Did you read Grim Reaper – Part I and experience the overpowering feeling that left you begging for more? Well, here is some more titled Grim Reaper – Part II.
In Grim Reaper – Part I we left off with the final cliff hanger question, "4) Does Joe die before he can bring you Grim Reaper – Part II?"
The very fact you are reading Grim Reaper – Part II brings you the news — good or bad, depending on your perspective — that I managed, with great cunning, to elude the Grim Reaper.
In mid October I visited with my family doctor who ordered lab tests and a chemical stress test. Because of my dizziness, shortness of breath and tiredness, the doctor reasoned I would not be able to complete a standard treadmill stress test.
I planned to fly to the East Coast the next day. Based on my heart rate, which on that day was in the 60s, he advised I could take the recommended tests upon my return.
During my trip I experience some dizziness. One day when I got off the couch, I spun in a 360 degree circle like a DUI with his shoes nailed to the floor.
It is amazing to me that in April of 2013, I successfully completed a standard treadmill test with flying colors. As the treadmill went higher and faster, the nurse kept asking if I was ready to quit. I kept saying, "No". Finally she asked if I was a cop. When I answered yes, she said, "I thought so, you cops never quit." Not quitting is a part of the warrior spirit a cop must embrace to survive on the streets. They told me my performance was that of a man half my age.
During late 2014, things had changed. A couple days before the chemical stress test, I mowed my lawn. I then realized my doctor was correct. I would not be able to perform the standard treadmill stress test as I had a year and a half earlier. Normally I mow at full throttle. For the first time in 60 years, I could not keep up with my lawn mower. I had to cut the throttle by 50% on my super-charged racing-speed California Trimmer.
After returning to the West Coast I completed the lab test and on November 3, 2014, I went to the Group Health Specialty Center for my chemical stress test.
When I crossed the threshold of the medical facility, I told myself five things. 1) This appears to be a serious problem which may require heart bypass surgery. 2) I might die. 3) I must maintain a good attitude. 4) Keep my sense of humor. 5) Be compliant.
With these five concepts in mind, I "rocked," had a good time everywhere I went, and laughed and joked with the medical staff.
When we got to phase 3 of the chemical stress test, the nurse took one look at the small red number in the lower left corner of the EKG machine and said, "That doesn't look right?" She scurried out of the room.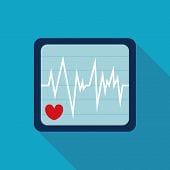 What happens next is astonishing. Until you get your hands on Grim Reaper – Part III in this popular series, you should be asking yourself, 1) Does Joe pass out? 2) Does the nurse pass out? 3) Does the EKG start smoking and burst into flames?
Until next time, if there is a next time, enjoy the blessings of each day you are given.