From time to time I attend programs sponsored by an amazing organization called National Speakers Association or NSA. Dorothy Wilhelm, my favorite post-retirement mentor, introduced me to NSA. For those of you who know Dorothy Wilhelm, if she says NSA is the place to be, you know, NSA is the place to be.
On Friday, November 21, 2014, I attended just such a program featuring a "don't miss" speaker named Bill Stainton. Bill has earned 29 Emmys for his work in the entertainment industry including producing the popular Seattle show, Almost Live. Bill has spent a good deal of his life both in front and behind the camera. Bill hangs out with folks like Jay Leno, Jerry Seinfeld and Ellen DeGeneres and of course, Joe Boyle. Bill is active as an international key-note speaker.
During Bill's presentation, held at the magnificent Mercer Island Community Center, he taught me to wear three hats when pursuing my interests involving writing and stand-up comedy. The three hats are Producer, Writer and Performer. His presentation was both educational and memorable. I can't help but improve. His working principles apply to anyone trying to accomplish a goal or project. It is all about being responsible for and managing details related to any project.
Because I was heading into the big city, I thought it would be an ideal time to meet with a close friend, Marc, who I met just shortly after he arrived on our planet. He was about age one. Though there is a giant difference in our ages, we are friends, none-the-less. I was friends and business partners with his father, Robinson, who died back in 1991. I serve as a historical connection to his father and his children's grandfather. I have stories involving his father and the family loves to hear this oral history.
An excellent NSA Seminar combined with meeting with an old friend served as a double force for me to discover a new meeting place. We met at the Roanoke Inn on Mercer Island. As I looked around the Roanoke, I thought, "There is a story here."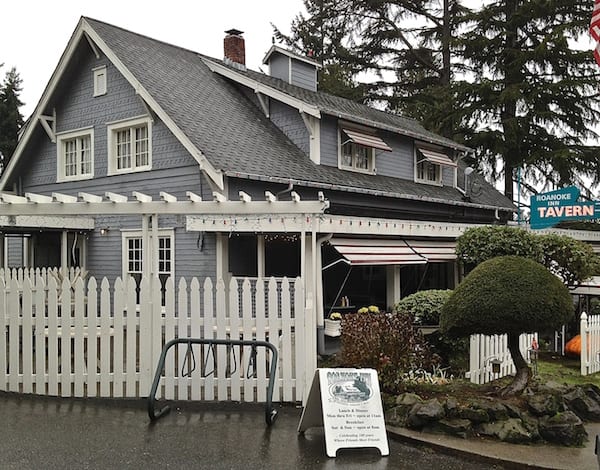 The Roanoke Inn opened in 1914. This year, 2014, the Roanoke Inn celebrates 100 years of continuous operation. That is a lot of friends, laughs, tears, beers and burgers.
During prohibition in America, 1920 – 1933, the Roanoke Inn continued serving alcohol, but went low profile by using coffee cups instead of drinking glasses. This low profile work-a-round reminds me when I was in the US Air Force Fighting 86th Aerial Port Squadron. It is rumored that some members of this crack military outfit displayed a penchant for buying Coke in a paper cups from the base store (Air Force BX). While walking back to their work station, they would nock the top off the Coke making room for liquid enhancement (Rum).
No one ever caught on to what was happening at the Roanoke Inn during prohibition. The same can be said for those who fought in the Battle of McChord AFB.
The Roanoke Inn is known as a place where friends meet friends. Originally it was a waterfront establishment. You could dock your boat in front of the Roanoke Inn.
The Lake Washington Ship Canal, which was first conceptualized in 1854, was built to adjust for the 20 foot height difference between the two bodies of water, Lake Washington and Puget Sound. Work began in 1906 and was not finished until 1934. Right around 1916, Lake Washington dropped about 9 feet. Next the movers and shakers, of the day, made Mercer Island bigger by filling in a significant amount of space that was formerly covered with water. The new fill made room between the Inn and the lake for more buildings. Who knows, they may have gotten the fill from the dredging operation.
The Roanoke Inn features 12 beers on tap including at times the cult beer Pliny the Younger and two IPAs. I do not know what those beers are since I have not started drinking beer yet. Though that be the case, there is one thing I do know. Those beers make this place sound cool.
You can enjoy good food including a French Dip that features the option of turkey instead of beef. Scrumptious deserts are available following your main course.
So, if you are looking for a new experience and some adventure, travel up to The Roanoke Inn and check it out. I would recommend a GPS or Mapquest document to diminish the possibility of your arriving at the Roanoke Inn with a mammoth buildup of travel tension.
The Roanoke Inn is located at 1825 – 72nd Av SE, Mercer Island, WA 98040. T: 206-232-0800.
To make it a little easier for you to take action, here is a link to Mapquest directions from Lakewood City Hall.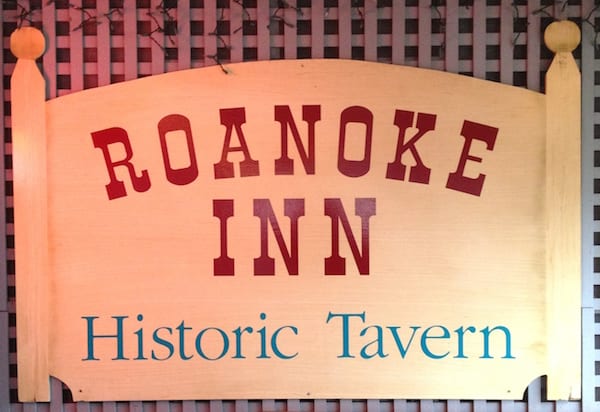 I plan to return to the Roanoke Inn. After all, if a road house can successfully serve food and drink for 100 years, the least I can do is to help them move towards their bicentennial.
I am only sorry I missed their first 100 years.