November 4, 2014, Election Day, has come and gone.
I remember middle school elections of the 1950s.  Candidates made posters. Candidates made "Vote for me" paper badges for their supporters.  Little effort was expended determining which candidates were most qualified. It was a silly juvenile popularity contest based on superficial issues such as who had the best posters.
As I reflect on elections in my adult life, it appears to me that not much has changed.  Today's elections are still much like middle school;  silly  and juvenile.

Reflection #1: Political Signs
Have you ever noticed those running for office or those For or Against a newly proposed law, trash our landscape with political signs?  They also violate common sense and courtesy by installing their signs in our improved park-like landscape areas historically provided by Keep Lakewood Beautiful.  How do the politicians expect landscape crews to mow lawns littered with political signs?
An election becomes a race to see who can put up the most eyesore signs.
Private yard signs are different.  They intelligently impart the idea that the homeowner supports the candidate or one side of an issue.  I am okay with that.
Then we have those overzealous individuals who commit crimes of malicious mischief and theft by either stealing or knocking the competition's signs over.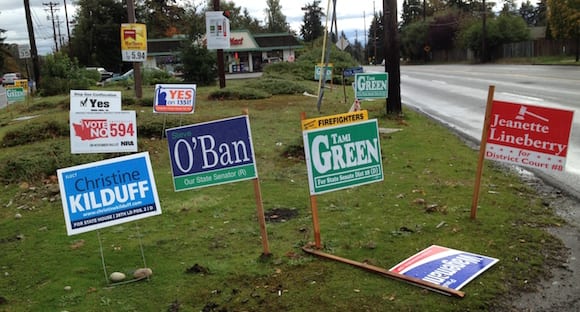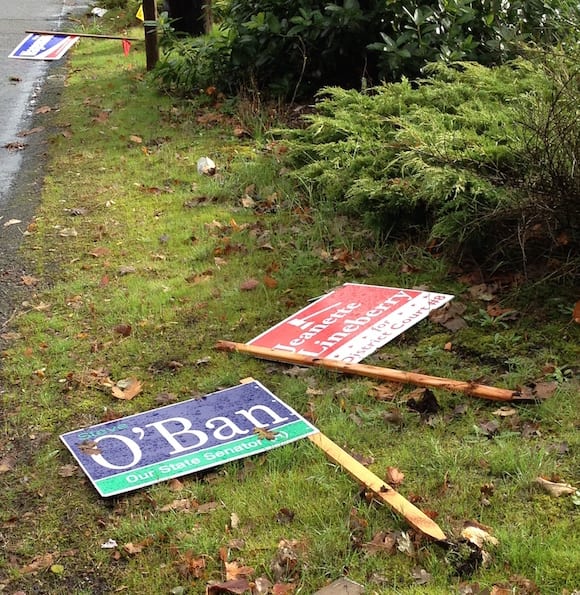 Reflection #2: Political Mailings
My next observation relates to all the slick political mailings that overload my mailbox, many of which are misleading, deceptive, and Tricky-Dick-like.
Mailers against Tami Green drew a dunce cap on her head.  They put a photo of her life-like face on a shriveled cartoon body.  While I appreciate free speech rights, this kind of stunt is middle school at best and perhaps slime-ball at worst.
Mailers against Steve O'Ban sent out a mailer with a lovely color photo of a poised, smiling, and well-dressed Tami Green looking her best, while they chose a terrible black and white reject photo that captured Steve O'Ban mid-sentence with his mouth open.  They made it look like Mr. O'Ban was trying to catch flies.  It also included the almost subliminal message, we love nurses and we hate lawyers.  More free speech I suppose, but I call it slick and Tricky-Dick.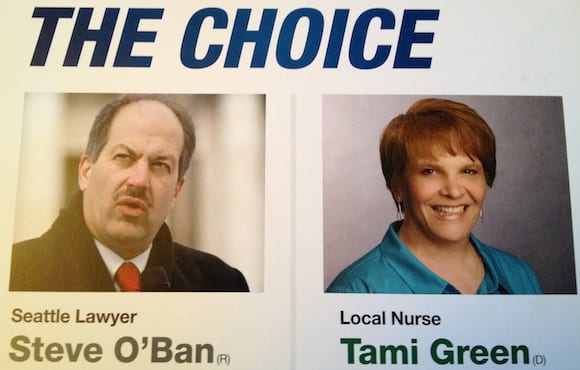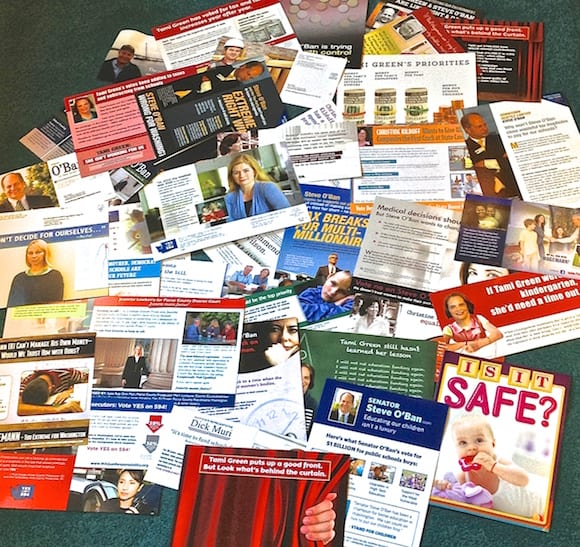 How about those photos of candidates with their suit jacket and tie removed?  The photo implies the candidate owns a suit and tie, which makes a case for the candidate being professional.  The candidate jettisons the suit coat and tie and with rolled up sleeves tries to give us the impression he is a down-to-earth, hard working American, just like us.
Many of the mailers include an image of the politician surrounded by family and a dog.  Have you noticed they never include a photo of the married politician  with a girlfriend or boyfriend?  How about instead of a dog, they include a photo of the politician's pet snake or rat?  So what are we expected to do, vote for the candidate with the best looking dog?
Reflection #3: Candidates on sidewalks endanger drivers and pedestrians
Another wacky political activity occurs when politicians with their families and supporters, stand on street corners with political signs waving to all the voters driving to and from work.  While they have freedom to assemble, should we be expected to vote for them because they have the proven ability to distract drivers, potentially causing crashes with other cars and pedestrians?
Reflection #4: Voter Influences
Many voters exposed to the political goofiness described above, vote based on the shallow information garnered through the middle school style political process. Voters choose a candidate or vote YES or NO on proposed new laws based on some of the following:
Vote for the candidate with the best looking dog.
Vote for the candidate with the most familiar name. We have an actual case in Pierce County where a well known, well liked Senator left office.  His son ran for an office.  The son emblazoned his last name, which was the same as his father's, in huge bright colors on his campaign signs and literature.  His first name, which was different from his father's, was printed in a dull bland color in such small font you needed to use a magnifying glass to read the first name on his signs.  Everyone thought they were voting for a wonderful, experienced public servant with a positive established track record (Dad), when in fact it was his inexperienced deceptive son trying to ride on his father's reputation.  Nothing illegal here, but it wins my Tricky-Dick award.
Vote for the candidate who spent the most money on signs and mailers.
Vote for the candidate who's name is easiest to pronounce.
Vote for the incumbent because the candidate is the incumbent.
A better way for us to develop our voting decisions is to actually make an effort to meet the candidates in person at public meetings or during their door-belling activity.  Ask questions.  Find out what they have to say about issues important to you.
Contact people you know working in the candidate's profession.
When it comes to issues, old fashioned research is needed.
Your friends opinions do not dictate your vote, but at least intelligent discussion with your friends is more productive than casting your vote for the candidate with the most signs.
Historically our middle school political system can produce some mutations in our election results. Here are a couple of examples.
1. Campaign for Pierce County Sheriff:
In 2008 incumbent Sheriff Paul Pastor ran for re-election. Sheriff Pastor was a highly educated and experienced law enforcement executive leader.
His opponent, Candidate Robert Jesse Hill, claimed to have extensive experience with law enforcement and our criminal justice system.  While it is true he had extensive experience, his campaign failed to inform voters that his experience came from having been arrested and /or mentally committed in multiple jurisdictions throughout the US including one incident involving a replica gun.
Mr. Hill's criminal background and mental illness profile did not prevent him from garnering over 50,000 votes or 20% of the vote total.  Approximately 50,000 voters thought a mentally ill criminal would make a good sheriff.
Fortunately, Paul Pastor won the race with about 200,000 votes. What kind of election system do we have that would allow Mr. Hill to receive more than his own single vote?
2. Campaign for Pierce County Assessor:
Then there was the well publicized Dale Washam – Assessor political tragedy. We are lucky Pierce County survived.  Mr. Washam demonstrated how a candidate could eventually win an office through sheer persistence and name recognition.  He ran for so many offices over a period of years, he became a household word.  Decades later, having never won a single office, he was elected Assessor.
Part of his win is attributable to a large wood sign he posted along side SR 512.  The sign, which read something like "DALE WASHAM WORKS FOR YOU," presented a generic message that fit any office he might be running for at the time.  The sign even worked to build name recognition in between elections.
With all those years of promoting his name and running for office, the public was slicked into thinking he must be a good candidate.
Reflection #5: Tradition Provides No Easy Way Out
How does our political process generate these tragic outcomes?  Part of the blame rests with our highly entrenched middle school mentality related to political campaigning.
There are rules and prohibitions for everyone when it comes to putting signs in the right-of-way, except, of course, for politicians.  Politicians make rules for us to live by, but frequently do not want the same rules to apply to them.  They have reserved an absolute right for themselves to place signs in the right-of-way.
No one really complains about this phenomenon.  We are so used to it.  We do not object and instead simply shuffle our way into the future.
In closing, let me hasten to say that in spite of our middle school political system, some good decisions are made and we benefit from a number of excellent politicians, who are devoted to the public they serve.
Additionally, even though our political voting system is hampered by flaws, I still prefer our system over that offered by Supreme Leader Kim Jung-un in North Korea.
Lastly, while I think this part of our political system has become goofy and wacky, we can't place all the blame on our politicians.  Because the middle school style political process is in place, politicians must participate in order to compete.
If politicians and voters alike abstained from childish political behavior and voters made their voting decisions based on intelligent research, we could eliminate our middle school campaign system.
Give it some thought and be sure to vote, but do not base your voting decisions on signs and mailers.