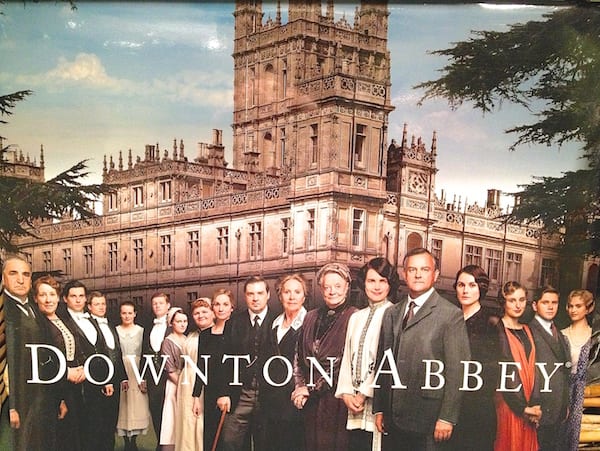 Are you a fan of the globally popular TV series, Downton Abbey?
I know Downton Abbey sounds like a show for the gals, but Downton Abbey can grab a guy's interest on multiple levels such as scenery, architecture, costumes, history, characters, story lines, classic cars and historical employment rolls.
What I like is I can enjoy the show with my wife and simultaneously earn "Wife Points" because we are doing something together that she likes. I find "Wife Points" to be handy when I want to take off cross-country on my motorcycle.
Let me tell you about a unique opportunity which can take your relationship with your wife to a higher level. Transport her to the Downton Abbey Costumes Exhibition in residence at Winterthur through January 4, 2015. We are talking double "Wife Points" for those who are cool enough to pull off this relationship-building caper.
Winterthur is a 204 year old family estate, which is the product of several generations of the Pierre Samuel du Pont de Nemours family who came to America from France in 1800. In 1802, Mr. du Pont established a black powder factory within two miles of what became Winterthur.
In 1810, Eleuthere Irenee du Pont, more commonly recognized as E. I. du Pont purchased 250 acres, which became the nucleus of what is Winterthur. As the decades past, Winterthur grew in size to 2,600 acres. (Note: My keyboard causes me to miss multiple French accent marks which belong in the proper spelling of Mr. du Pont's full and proper name.)
In 1837 E. I. du Pont's daughter, Evelina, and her husband, Jacques Antoine Bidermann, purchased the land from the other heirs of E. I. du Pont to build a 12-room house. Winterthur was named after Bidermann's ancestral home in Switzerland. When you pronounce Winterthur, the letter "h" is silent, giving you the regionally accepted pronunciation of "Winter Tour".
Winterthur eventually expanded to 9 stories including 150 rooms, which was more than an ordinary homemaker could handle.
Of course, Winterthur and the mythical Downton Abbey were both supported by servants. It took 34 servants to run Winterthur.
While Downton Abbey and Winterthur are not the same, they share a lot in common. One of the things that ties them together is the fact that until January 4, 2015, if you visit Winterthur, you can enjoy a special exhibition of 40 costumes from the TV series, Downton Abbey.
During your visit to Winterthur you can also take a tour of the home which is a museum showcasing the du Pont collection of period hand-made furniture and artifacts. One can also wander through 1,000 acres of du Pont gardens on foot or by tram.
Downton Abbey Costume Exhibition at Winterthur Museum and Visiting Winterthur Estate.
Winterthur Museum & Country Estate comparable to Downton Abbey.
Winterthur Museum & Country Estate comparable to Downton Abbey.
Special Exhibition of Downton Abbey at Winterthur Museum & Country Estate. Footman's Livery.
Mrs. Hughes – House Keeper.
Mrs. Anna Bates (nee Smith) – Maid.
Rental car picked up the train station.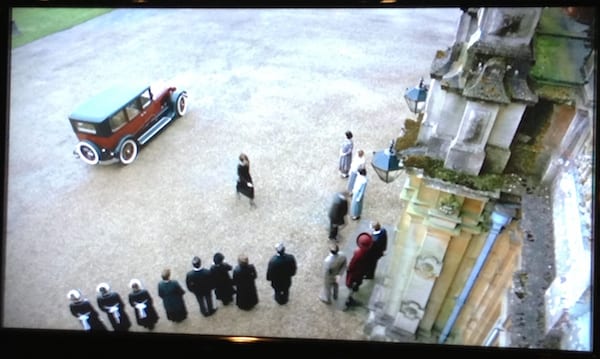 Cora, The Countess of Grantham's dress – Lady of the House.
Cora with her Lady's Maid, Mrs. O'Brien.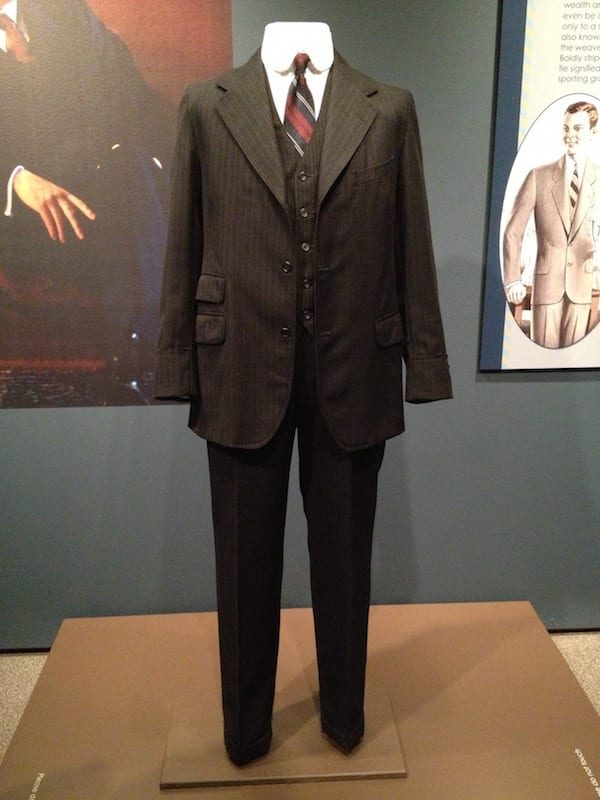 The Dowager – Lady Violet.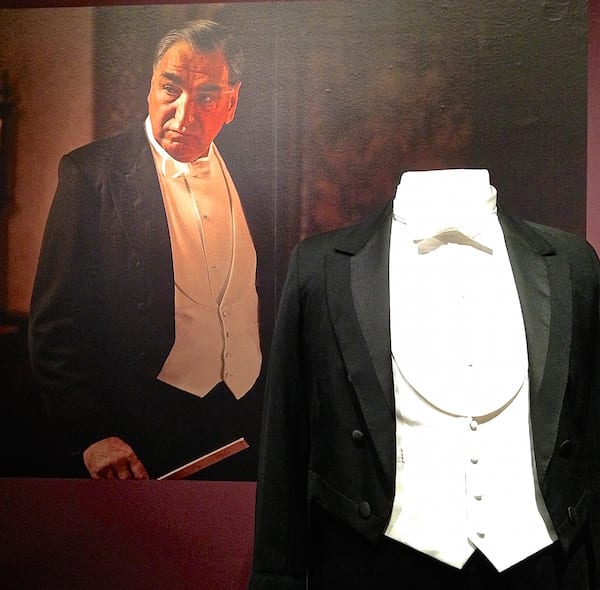 Mary & Matthew Crawley.
The du Ponts eventually realized that future family would not be able to continue to financially maintain the estate because of changing times and property taxes. The du Ponts gifted 1,600 acres which became a state park. The remaining 1000 acres and the home were then established as a museum.
Last year 15,000 people visited Winterthur. This year, for the same time period, after opening the Downton Abbey exhibition, 150,000 people have visited Winterthur.
It is my opinion that those who are in charge of this exhibit should move the exhibit all around the United States, and the world, for that matter. Take the exhibit to the fans.
That plan is not in place, so for now you must travel to Delaware. When the exhibit closes on January 4, 2015, the materials will be returned to their owner for permanent storage.
Interestingly, the Winterthur – Downton Abbey costume exhibition was simply a one time freelance idea. Winterthur asked Downton Abbey if they could collaborate on an exhibit. Both sides agreed, and it happened.
Winterthur is about 6 miles northwest of Wilmington, Delaware, or 2,843 miles east of DuPont, Washington.
There is a strong connection between Winterthur and our own amazing Pacific Northwest town, DuPont, Washington. Check my DuPont link for some fascinating history related to the duPont family and our Town of DuPont.
In 1906 descendants of this same du Pont family purchased 5 square miles or 3,200 acres of land that would eventually become our very own DuPont, Washington.
DuPont was incorporated in 1912. The original purpose of DuPont was to serve as a company town to house DuPont Company employees working in a new explosives plant. By 1909, DuPont included 100 company employee houses.
I have an idea for our local Dupont Museum and Historical Society. How about tracking down the people in charge of this exhibit and suggest a second exhibit in DuPont, Washington focussing on Downton Abbey and the du Pont family contribution to DuPont, Washington? Washington State History Museum might be an ideal partner.
Winterthur and Downton Abbey is a magical combination. Downton Abbey, the du Pont familyand DuPont, Washington, could be a magical combination, too.