In the 1950s when I was a 12 year old kid, I used to go to the dump with my dad in his 1936 Chevy pickup truck. As soon as we left the highway, he let me drive the old truck around the dump. That is right; no high school driver's training for me.
We had the entire truck-bed loaded with trash, garbage and junk. By the way, we called this magic place the dump, not some fancy name like Recycling Center, Recovery Site or Landfill. If you had something you wanted to get rid of, you hauled it to the smelly dump, fought through the army of flies and pushed it out of the truck, with no questions asked. There were no rules to complicate life.
Any visit to the dump would require a hat to avoid getting nailed with white stuff from seagulls. At night you could go rat "shootin". The dump was a magic place for a kid.
The dump would take anything you wanted to get rid of other than unexploded World War II ordinance. I kept that neat stuff in my bedroom anyway.
Often I would find a treasure at the dump and would talk my dad into hauling it home; much to the chagrin of my mother. I was careful to never break Mom's dump rule which was, "Do not bring home more than you took to the dump in the first place." After all, the two guys in the old truck were Bill and son, not Sanford and Son.
Today the dump not only buries garbage, the dump buries you in dump rules. You have to put your grass in one place and your glass in another. They pipe the methane gas out of the ground and burn it off. They no longer allow litter on the dump streets, which are now paved instead of mud.
The dump has changed.
The real point I want to make is the dump refuses to take my cans of old paint unless I buy $45 of cat litter and over a period of several weeks suffer the hassle of drying the paint into a solid form by constantly mixing the cat litter into the liquid paint until it is transformed from a liquid to a rock solid form.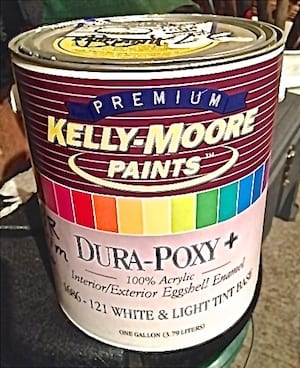 Ok, I am finished talking about the dump. Let's talk about another frustrating place, the Transportation Security Administration commonly called TSA. You find these guys at the airport.
The TSA is another place with a ton of rules. Last year while driving to the Sea-Tac Airport I picked up a Starbucks grande' mocha in a brand new paper cup with 2% milk, a complimentary cap, no straw, stirred with light whip.
Arriving at the airport, I approached the TSA security line. This TSA guy yelled at me, "Hey, you! Yaa, you Bozo. What do you have in your left hand?" I replied, "Sir, in my left hand I am clutching a Starbucks 2% mocha in a brand new paper cup with a complimentary cap, no straw, stirred with light whip."
The TSA guy bellowed back, "You can't bring that on the plane." He obviously feared I might high-jack the plane with my Starbucks espresso. It was a triple shot, so maybe he had a valid concern.
TSA gave me two choices.
Choice #1: TSA confiscates my mocha as unauthorized material, which is then disposed of.
Choice #2: If I was not willing to turn my mocha over to the TSA , they would not allow me to board the plane. This action is a part of their anti-terrorist protocol.
Needless to say, I let them confiscate my beverage. I was not happy, but what are you going to do?
So there you have it. Two fussy bureaucratic organizations, the dump and the TSA, constantly frustrating the public with their rules and procedures.
Instead of getting angry, I like to maintain a calm demeanor so I can think carefully and creatively as I closely study their rules. I am always searching to see if I can find a good angle that will work to my benefit. I developed this talent while valiantly serving in the US Air Force during the little known clandestine 1968 battle of McChord Air Force Base.
My thinking proved to be productive as you can see from my description of the implementation of my idea below.
On my very next trip to the airport, instead of a personal carry-on bag and laptop case, I brought two old nasty half full one gallon cans of paint I wanted to get rid of.
As I calmly approached the TSA security check point a TSA agent yelled, "Hey Goofball, are those old paint cans?" Wishing to be a truthful American, I accurately reported. "Yes, one is base primer and the other is Fawn Beige exterior house paint from Kelly-Moore Paints. It is a custom mix."
The TSA guy seemed to go nuts. "What are you thinking? Are you stupid? You can't bring old paint cans on the plane."
The TSA gave me two choices.
Choice #1: TSA would confiscate the paint as unauthorized material and dispose of it.
Choice #2: If I was not willing to turn my paint cans over to the TSA , they would not allow me to board the plane. This action is a part of their anti-terrorist protocol.
To make it look good, I engaged TSA in some light debate. After letting the TSA Agent savor his feeling of power by showing him my disappointed face, I reluctantly handed over my two cans of paint. He put a big red sticker on each can that read CONFISCATED BY TSA. He was grinning ear to ear. Apparently I had made him feel successful in his quest to stamp out terrorism.
My innovative idea created a win — win. TSA fights terrorism. I got rid of my paint.
Hey, don't look at me like that. Remember, all I did was comply with TSA rules. My flight left before TSA figured out they would have to buy kitty litter.
COMEDIC DISCLOSURE TO THOSE WHO HAVE NO SENSE OF HUMOR: If any member of the TSA staff reads this article, rest assured, this is just a joke. Please do not add the name Joe Boyle to the TSA No Fly List.
Editor's Note: Would you like to receive Joe's stories exclusively to your email inbox? Then you should sign up for Instant Joe…