Remember that fun movie, Sleepless in Seattle? This story has nothing to do with that movie. Cashless in Seattle is a different kind of story. The scene I am about to describe could be in a movie, but it was not.
After my wife and I retired, we decided to dedicate one day a week as Date-Day. We pledged to set this one day aside each week to do fun things together.
Recently our Date-Day took us to the big city, Seattle. After arriving downtown, we spotted a public parking lot. We thought we were lucky to find such a great central location with a good number of parking spaces to choose from. It did seem unusual there were so many open spots, but we proceeded to park and lock our car.
When we walked over to the pay box, we quickly discovered why there were so many spots to choose from. The parking fee is $5 for every half hour or $10 per hour. We thought we might be in town for 6 – 10 hours, which was going to cost us $60 — $100.
Hey, I "ain't" no fool. We left that parking lot, and it is good thing, too. We found a parking lot just down the street on the corner of Virginia Street and 2nd Avenue, for much less. I know, you are thinking, Joe Boyle is a genius when it comes to moving around in a big city.
We pulled in and found a great spot, space 58 to be exact. Before we could get out of our car, a young man walked up to my driver's window. At first I thought he might be one of those Seattle street beggars panhandling for cash.
It turned out he was the parking lot attendant for Trust Public Parking. He had some official looking stuff hanging around his neck like company ID. My eyesight is not what it use to be, so I could not really read his ID. It looked like he had his customer receipt material in the neck packet. The conversation went something like this.
Attendant: "How long would you like to park today, sir?"
Man About Town: "I would like the all day rate for $27.00."
Attendant: "No problem. $27.00, please." In a quiet polite gentle voice he said, "Any tip would be greatly appreciated."
He kept repeating, "Be sure to roll up all your windows and lock your car. We will be here all day and will keep an eye on your car."
My wife and I both felt some 6th sense that something was not quite right, but the attendant had all the right answers to my questions.
I grabbed my money clip and pealed off a $20 dollar bill, a $5 dollar bill and two $1 dollar bills for a total of $27.00. My wife and I discussed quietly if we should tip, how much we should tip and when — now or upon our return. We thought rounding it up to $30 should work.
Hey, we were about to save $70 over the other lot, so why not give a tip. Besides, the attendant was going to keep an eye on our car. I liked this guy.
He handed me my ticket and kept repeating, "Put this on your dash face up." Before doing so, I looked at the ticket,
Man About Town: "Hey, this ticket is for space 14, not space 58. The date on this ticket is yesterday." Today is today, not yesterday.
Now those were questions "lot boy" could not answer. He was down the road like a scalded dog. He did not even wait for his $3 tip. All we could see is his elbows pumping down the street as he white knuckled our $27 cash.
The two of us got out of the car. We could not decide to laugh or cry. We had just been conned out of $27 cash. I had to admire this con-man. He got my money fair and square without breaking my car window or pushing a gun into my face. He was like an improvisational actor. He was so smooth, he left me feeling guilty for only wanting to give him a $3 tip. His con-man act was well worth a $10 tip. You can't find this kind of acting on daytime TV.
Our next step was to visit the parking pay box, which the big sign painted on the asphalt directed us towards. Yes, we still needed to pay for our parking; a second time. With the tax and fees our legitimate parking ticket cost $33. $27 + $33 = $60. That is correct. The man about town paid $60 to park in Seattle.
Had we simply tossed the con-man ticket on the dash without looking, we would not have discovered our plight in time. Trust Public Parking, not being impressed with the con-man ticket, would have charged us a $40 penalty. There is always something to be grateful for.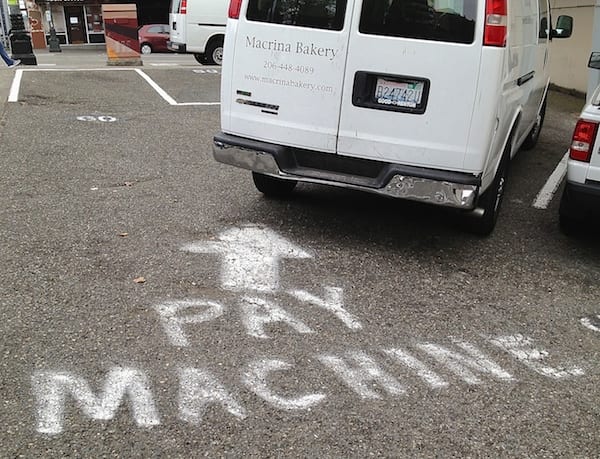 "Man about town?" "Haaa!" It is more like a man coming down from the woodsy mountains to the big city to get skinned.
I have to admit, under my laughter, I was steaming a bit all day. One of the things I do when I experience this kind of misfortune is fall back on my life principle that money flows out and money flows in.
Presto, while we were down $27 as we began our visit in the big city, a nice lady named Sarah at Coffee Gear, volunteered to "incentivize" our purchase by giving us two bags of custom coffee worth $14 per bag. Two times $14 = $28. Hey, now we were up $1. On top of that, I received a hard plastic indestructible bullet proof $10 coupon from Sarah which we can use like cash at Coffee Gear. Now we were up $11 ahead since having arrived in Seattle.
While outmaneuvered by the smooth-talking and gutsy parking lot rascal is downright embarrassing for a retired police officer, I had to share our experience with you so you can laugh at me instead of having to cry because a similar victimization happens to you the next time you venture into the big city.
Another couple, looking confused, arrived at the parking lot. They were about to put their money in a city street-side parking meter. We pointed out that the street-side meter was for street parking, not lot parking. After sharing our sad story, we directed them to the parking lot pay box.
They thanked us profusely. We could tell they were thinking, "That retired couple really knows their way around the big city."