Readers, today was a fun day starting with a coffee meeting with local author Shirlee Eskew Dashow who has published her first book, Coke-Cry Revisited.
Coke-Cry Revisited. Titles fascinate me. I play with titles as I create my articles. I continually search for just the right words. I want my titles to be on target, say a lot in a few words and to capture the attention of my readers with the hope they will want to see the photos and read the entire article.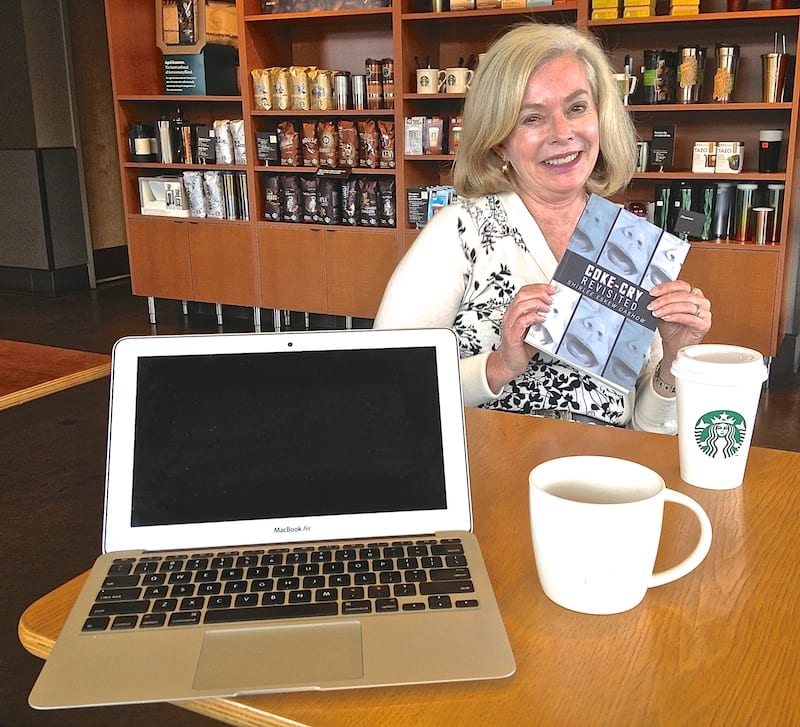 After I submitted my last article, titled Oldest House in Lakewood, it occurred to me that I could have titled the article This Old House, a bit of a double entendre related to the TV show of the same name. Well, that is a missed opportunity for some artistic fun. My title idea came too late.
My title for this article, Drug Babies, possesses no element of fun, nor is any element of fun appropriate. Drug Babies is my two word title designed to describe the serious message of Shirlee's book.
Drug-babies are children born with medical, mental and social problems caused by their mother's use of drugs and / or alcohol during pregnancy.
The different shades of skin color on the book cover depict the fact that the drug-baby problem crosses all races, wealth levels, education levels and includes drug abusers and lawful prescription drug users.
While Shirlee and I have travelled different pathways in life, our common denominator is drug-babies. Shirlee spent a good number of years teaching children who were abused by their birth mothers because they used drugs and / or alcohol during pregnancy. Shirlee has lived all over the world and while doing so has taught children suffering from the impacts of drug addiction. The countries may be different, but the drug-baby's problems are the same.
She has spent countless volunteer hours serving in hospital ICU units as a "Rocker". A "Rocker" is a person who holds, cuddles and rocks a small baby who was born with inherited drug addiction.
A drug-baby's first day of life is the first day of suffering the long painful drug-withdrawal process. The process may stretch out for six months. The baby's constant withdrawal cry is known as the coke-cry.
It is important to note that drug abusers are not the only mothers giving birth to drug-babies. Drug-babies are also born to mothers who properly and legally use drugs prescribed to them by doctors for depression, anxiety and other ailments. Lastly many mothers who use and abuse alcohol during pregnancy give birth to babies inflicted with Fetal Alcohol Syndrome which is another kind of drug-baby.
The net result produces babies who immediately or on a delayed basis experience psychotic episodes, Aspergers, neurological disabilities, learning disabilities, high blood pressure, hearing loss, vision loss and the loss of motor skills.
Over the years, Shirlee gathered information about drug-babies and with a penchant for writing, she recorded that information on legal size yellow tablets using a #2 pencil with an eraser.
One of Shirlee's friends suggested, "Shirlee, you should write a book." Using her yellow tablet notes dating back to the early 1990s, her first book, Coke – Cry Revisited was born.
The word, "Coke" in the title refers to the street name for the drug, cocaine. She is working on a second book entitled Say What? — a follow-up to Coke – Cry Revisited. The second book is scheduled for publication in 2015.
During my years as a police officer, I dealt with citizens with mental issues, arrested repeat offenders and took new-born babies into Protective Custody thereby "ripping" the infant out of the arms of his or her drug addicted mother the day the infant was born. The negative issues in many of these cases were related to the drug-baby syndrome.
Even if the drug-babies are able to shake the drug habit(s), there is no way to repair the damage already done to their developing minds and bodies. Many are altered human beings because of the drug exposure before birth.
What I noticed over the years is that as these drug-babies grow older, they lack mental filters to help them choose between right and wrong, legal and illegal. They constantly make bad choices getting into trouble with the law and in trouble with life in general.
Drug-babies do not know why they continue making poor choices. Those individuals who start life as drug-babies often possess good looks, intelligence, kindness and are friendly and likable. In spite of those positive virtues, drug-babies cannot seem to escape the drug-baby inherent flaws. They constantly hurt themselves and others with their life choices.
Although some are adopted into loving advantaged homes, that does not always help. With rare exception the curse is given to them before they are born and stays with them until they die.
Shirlee cleverly wrote the book from several different perspectives including that of a drug-baby, doctors, nurses, law enforcement, courts, Child Protective Service, social workers and education.
Her book also outlines some fascinating history about drugs and the impact of drugs on our country.
The thing I like about Shirlee's book is that she wrote it, not to make money, but to educate those in their reproductive years regarding the dangers of giving birth to a child while using drugs and alcohol during pregnancy. Her book is only 5 chapters. The book is thin and uses large print. The book is easy to read.
Shirlee closes her book with a tight ending which brings her message all the way home.
In order to deliver this important message, Shirlee is available for book signings, public presentations, TV shows, radio presentations, private gatherings and educational seminars.
For more details, contact Shirlee Eskew Dashow online or via email.
I encourage men and women alike to read Shirlee's small, but powerful book. Book Orders: E-Book – $8.99, Paperback -$13 and Hardcover – $29.
If you are a woman able to bare children, please read Shirlee's book. If you have a wife, daughter, granddaughter, niece or friend of child-baring age, please read this book and pass it on to your loved one. We must protect our children and our society from the Coke-Cry.