On December 25, 2012, we published a story titled Pierce Transit Fights Obesity.
Being community minded and wanting to be a part of the solution to American obesity, Pierce Transit experimented with installing exercise bikes at their bus stop test sights.
It turns out that most bus riders do not like exercise and are actually quite slothful.
The exception to this observation is the bike / bus riders. Have you ever noticed how most serious bicycle riders are not obese? I have also noted that there is no bicycle rack in front of the all you can eat restaurant, Old Country Buffet, a favorite dining spot for obese Americans.
No matter how well intentioned Pierce Transit was in their experiment to help Americans lose weight, the experiment failed.
Pierce Transit authorities have announced that they have removed all the exercise bikes.
The one good thing that came from this noble experiment is knowing now what their ridership wants.
After dumping the exercise bikes, Pierce Transit is now making a bold move in an effort to meet the true wants and desires of the slothful bus rider.
Transit companies from all over the world are watching Pierce Transit, long known as an innovative leader in creating exemplary new customer service ideas.
To meet customer needs, Pierce Transit has installed an EZ Boy recliner at their bus stop test site located in the 8500 block of Bridgeport Way SW, Lakewood, Washington. Check out my photo below.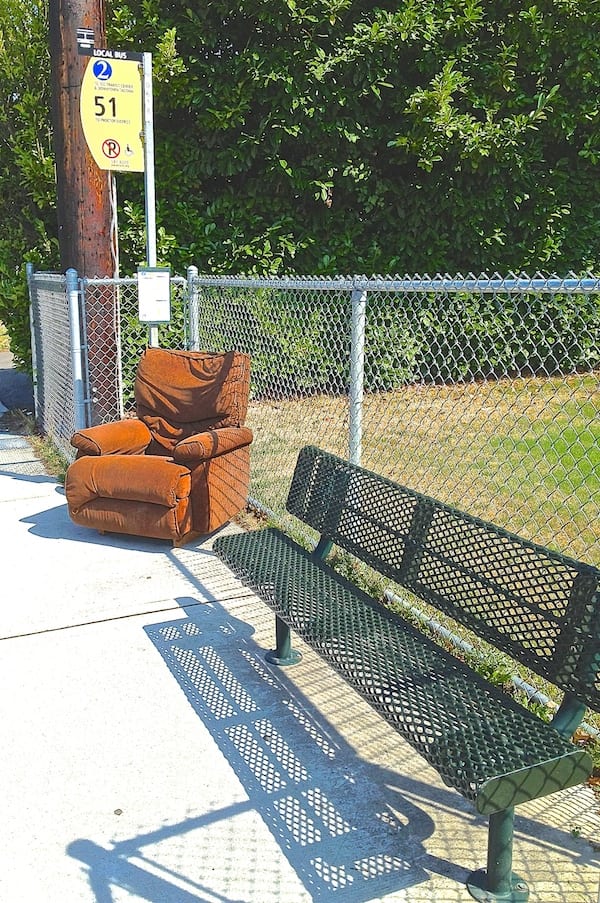 Pierce transit has installed a tiny computer chip in the EZ Boy recliner. They have done the same with the standard iron bench. The computer chip counts the number of derrieres that plop down in the EZ chair vs the number of derrieres that utilize the metal bench.
Early reports indicate two unexpected problems. Lakewood Police have responded to several calls of fist fights as riders tussle over who gets the EZ chair.
If the EZ chair proves to be more popular than the exercise bike, Pierce Transit may install multiple chairs at each bus stop much like you see in West Pierce Fire and Rescue Fire Stations. The hope is multiple chairs will help avoid the fist fights.
Pierce Transit may also try installing one of those "Take A Number" distribution cans on a pole to avoid the violence at test sites.
The other unexpected problem is several bus riders have fallen asleep in the EZ chair thereby missing their bus and being late to work. EZ Boy user bus riders arriving late to work are starting to cause a noticeable spike in local unemployment.
If the EZ Boy recliner proves to be popular, Pierce Transit is considering making their bus stops even more opulent by installing solar powered 52" flatscreen HD televisions like you see at West Pierce Fire and Rescue Stations.
Until next time, that is how it is how I see it in Pierce County.