Hey, I miss you guys. My last article appeared in the June 17, 2014, Suburban Times. We have not shared one single Westside Story since.
I know some of you have been searching the obituaries for my name. Others thought I might be doing some hard prison time. There was even talk of putting my photo on milk cartons. My most loyal reader thought putting my photo on beer cans might be more effective.
I am not missing. The truth is, I have been busier than a one arm wall-paper hanger.
On June 20, 2014, I rode my Harley Davidson motorcycle to Sturgis, South Dakota with stops in Montana and Guernsey, Wyoming.
I carried my laptop in my saddlebag, thinking I could write some stories along the way. As it turned out, motorcycle riding, having fun with my five pals and surviving hailstorms took all my time with no time left over for writing.
This trip was my 17th annual BAMR. Since this is a family friendly newspaper, I will change the second word in my acronym, BAMR, and indicate to you that BAMR means, Big Annual Motorcycle Ride; close enough.
On June 20, 2014, I met my pal, Jimmy, in the Starbucks parking lot at South Tacoma Way and SR512. We rode to the North Bend, Washington area where we met my 1950 first grade buddy, Drew. The three of us had a Starbucks and then headed down the road a total of 478 miles, ending up at our good friend, Steve's house.
The four of us got high at Steve's. I am not talking about post Initiative 502 high. I am simply referring to the fact that Steve's mountain-top home is 3,550 feet high above sea level.
You have to be technically proficient in motorcycle riding to traverse the several mile twisty dirt and gravel road and driveway leading up to Steve's house. Once you arrive, you are in Montana mountain paradise.
We prepared for our long distance ride to Sturgis by watching the movie, Wild Hogs.
Two days later the four of us made it to the Rush-No-More Campground in Sturgis, South Dakota. Tom and Randy joined us from Kentucky and Indiana.
The six of us hung out with Ed Miller, a retired lawyer and lobbyist from Washington DC, who now owns and operates the campground. Ed is one great guy and a ton of fun to hang out with.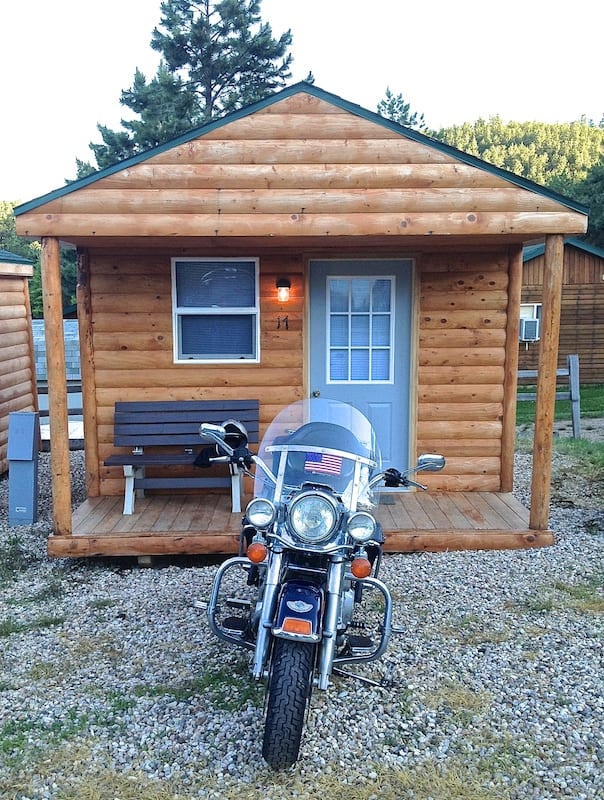 We used two cabins at the campground as our headquarters for our "Hub Rides" through the Black Hills, Badlands, Devil's Tower and Crazy Horse Monument to name a few.
Our major challenge was staying out of the way of severe weather storms. We ducked out on two hail storms. The hail was as the size of quarters. Our only casualty was a bloody cut on Jimmy's nose. Otherwise we out maneuvered the storms by hiding out, bikes and all, under a shed roof at an old saloon called The Slash 7. During the second storm, we hid out inside a metal building used for storing golf carts at a golf course.
3,000 plus miles later we were all back home.
The rest of my time since then has been spent having fun with grandchildren and working on two stand-up comedy projects. One comedy project was a 50th birthday party and the other was a Master Gardener promotion party. I was able to create personalized humor for both of these projects. While it does not look like I will be a candidate for The Last Comic Standing anytime soon, a good time was had crowds ranging between 25 and 85 audience members.
Both projects raised money for a Charles Wright Academy endowment project my mother, wife and I created to help kids, pre-school through 12th grade. We are doing what we can to help young people gain an excellent education, which is something my mother never had as an abused child.
Education can be an important foundation for a successful life. We named the endowment after my mother, Phyllis M. Boyle, to honor her for breaking the child abuse cycle. She has a legacy of seven children, grandchildren and great grandchildren who have never suffered one day of child abuse.
My grandmother invented child abuse back in 1922. One of the tragic results of my mother's suffering was not having a reasonable opportunity to acquire an excellent education. We are working hard to turn my grandmother's evil ways into something positive for kids in the future. The endowment is designed with lasting economic power to continue helping children after my mother, wife and I are long gone.
It looks like the two private party stand-up comedy gigs should raise over $1,000 for the endowment. While that may not seem like a lot of money, it could be big money to a kid who needs a little help. Besides it was fun for me, with only 31 minutes of stand-up comedy experience, to muster what it takes to stand in front of a group of people and bring them to laughter.
If you would like to consider making a tax deductible donation to the CWA – PMB Endowment please contact me T: 253-582-0066 or Ms. Sharon Hurt at Charles Wright Academy T: 253-620-8305. There is no obligation.
Well, hey, it is nice to be back.