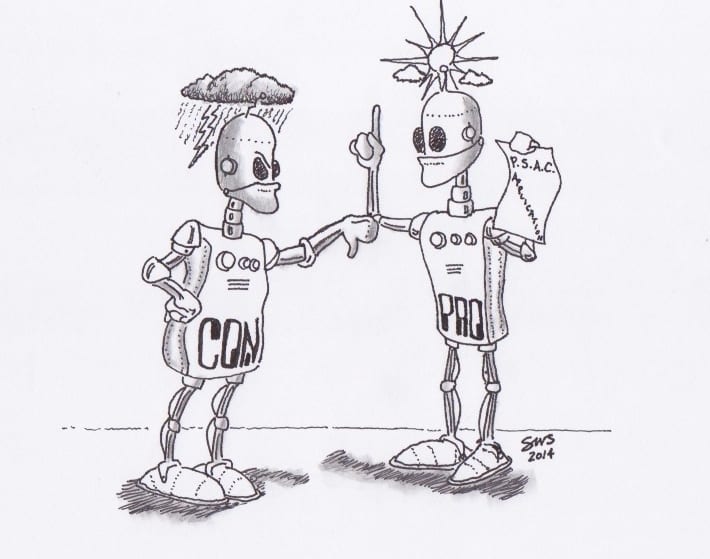 From my observation, Dave Anderson and I have a lot in common. We both suffer from verbosity and redundancy. I fight it all the time in my own writing.
I wish to focus on one of Mr. Anderson's recent articles written May 25, 2014, and titled Letter: City Committee Openings – Robots May Apply.
If you read Mr. Anderson's article in its entirety, you will be faced with close to 1220 words talking about the Public Safety Advisory Committee (PSAC) and how Mr. Anderson believes the committee and the Lakewood City Council continually fail.
For an alternate view that does not support Mr. Anderson's position of our city's continual failure, all we have to do is boil Mr. Anderson's 1220 word article down to one word, advisory, which is a key word found in the title Public Safety Advisory Committee. 1220 words vs. 1 word. It is as simple as that. One word, advisory provides the true picture and suggests that our city council and our advisory committees are not failing. We may or may not agree with their decisions every time, but they are not failing us.
The city asks for citizen input via an advisory committee. Citizens, who are not a part of the committee, are encouraged to attend the advisory meetings and to share their thinking and ideas during the public comment period or by submitting their thoughts in writing. The committee meets, researches the issue at hand, reviews public input and then votes in order to develop a consensus. The advisory committee then gives the Lakewood City Council their Advisory Report.
The City Council never intended to turn their responsibility, power and obligation to make public policy decisions over to the Public Safety Advisory Committee. The Public Safety Advisory Committee is advisory. The PSAC does not make decisions, nor do they dictate what is to be done in any situation.
The Committee is only one source of input for the Council to consider. The Council normally has a multitude of other sources of input, all of which can be considered prior to making any decision regarding public policy.
If you are a member of a committee and the Council does not follow your advisory suggestion, I understand it may be disappointing, but that outcome is no failure in the system.
One word, ADVISORY.
Simply put, the City Council is not obligated to act on the advisory opinion.
While I have never considered myself a robot, I think I will apply for one of the openings on the Public Safety Advisory Committee. I believe my background, knowledge and experience will put me in position to do the committee and the citizens of Lakewood some good. I may or may not be selected, but if I am, I plan to do my job, which is to help provide advisory recommendations on various public safety issues. If I am appointed, my job will be to help share public opinion with our Council. I will invite your input through my relationship with The Suburban Times – Westside Story. It will not be my job to make public policy. That will remain the City Council's responsibility.
Editor's Note: Would you like to receive Joe's stories exclusively to your email inbox? Then you should sign up for Instant Joe…