OK, I admit my title, Lakewood Struck By Meteor, might be a leap to an erroneous conclusion, but what did happen? The location is the intersection of Gravelly Lake Drive SW and 112th St SW near Clover Park High School.
Does anyone know? It looks like another vehicle exceeded the 30 mph speed limit, missed the turn, jumped the curb and smacked the rock wall. I did not find any tire markings on the pavement, nor were there any tire impressions in the grass.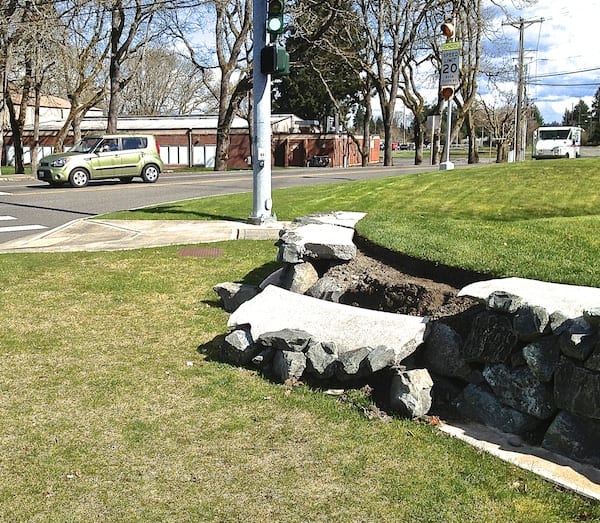 Do you remember my three stories (one, two, three) about the car that used Starsky and Hutch tactics to become airborne, crash through a brick wall, knocking over trees and finally coming to rest inside the entrance of a nearby condominium?
The City of Lakewood worked hard and spent money building a nicely landscaped rock wall lawn area berm in an effort to prevent further property damage, injury and death from hazardous drivers.
Lakewood residents commented that our city provided a classy solution instead of an ugly concrete jersey barrier. It looks like the city's plan may be working. Thank you City of Lakewood.
Car strike? Meteor strike? Who knows? Anyone?