One of the fun things about being a writer, who no longer writes police reports, is I can be creative in my writing.  When you write police reports, being creative is not acceptable.  It is all about, "Just the facts."
Some of you may have heard the classic admonition, "No Wife, No Horse, No Mustache," which originated with the U.S.Military Academy at West Point, commonly referred to as simply, West Point.  West Point is located in West Point, New York.
Since I am not writing a police report, I am going to take poetic license with the classic West Point saying by modernizing it to read, "No Wife, No Horse, No Mustache, No Cell Phone."
Why?  Because my more modern high tech version aptly describes current expectations for anyone entering West Point in 2014.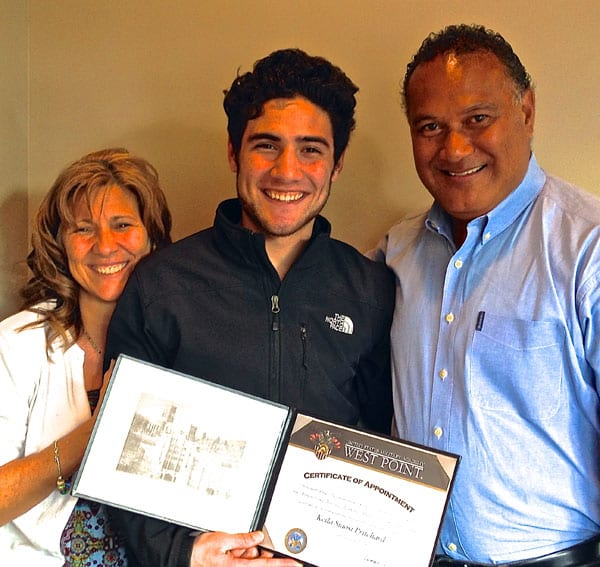 By this juncture you may be wondering, "Why, Joe Boyle, are you focussing on West Point?"  I am excited to share the good news that a young man I have written about before, just accepted his appointment to West Point starting July 2014.
He is, if I may borrow the term, our Lakewood Native Son.  I am referring to former Starbucks barista, Keila Pritchard.  You may remember me writing about Keila, when he played a key roll in my January 16, 2014, article, The Starbucks Half Dozen.
Keila started working towards his West Point appointment as a Freshman while attending Clover Park High School in Lakewood, Washington.
Originally from Centrailia, Washington, Keila will graduate from Cover Park this June, having earned two years of college credit as a participant in the collegiate Running Start Program.
During his freshman year, at age 15, he made his first inquiry to West Point.  West Point told him to work hard on his  grades and to stay out of trouble.
As a former Juvenile Detective, I am aware of the long list of shenanigans that can get a young man into trouble.  Keila, for many reasons; good family, strong religious faith, bright moral code, maturity and West Point's prescription for success, chose the high road of making good life decisions.
During his sophomore year, Keila completed a West Point questionnaire.  Additionally, he began to talk to people about West Point, including former military academy graduates.
In Keila's junior year he opened a file at West Point.  He worked with Lieutenant Colonel Kevin Bouren – Executive Officer United States Military Academy and they started the arduous application process.
He was told, "If this is something your parents want you to do, stop the process right now.  You will not make it.  It is something you personally have to want to do, if you are to succeed."  Keila's parents, Dave and Kelli Prichard, never suggested that he apply to West Point.  Once Keila told his parents of his desire, they were strongly supportive.
In concert with Keila's life philosophy of wanting to be self sustaining, the decision to apply to West Point was 100% his own idea.
Keila, who follows in two of his older brother's footsteps, serves the Clover Park High School Warriors Football Team as their quarterback.  Keila loves leadership, especially the process and responsibility of personally leading others.
He told me that becoming a West Point graduate will be parallel to leading a football team; only the decisions will be much larger with victory or defeat resulting in life and death decisions.
This year as a senior, Keila submitted his full application package including a recommendation from Washington State Congressman Denny Heck.
A long list of Starbucks customers have been watching Keila's progress.  I was present when Keila manipulated a laptop computer which showed his key strokes on a big screen before a group of friends and family.  With his last keystroke, he accepted West Point's offer to become a member of the class of 2018.
Keila's first day of basic training is referred to as R – Day or Reception Day.  Basic Training lasts eight weeks and is called Beast Barracks.  It is called Beast Barracks because it is just like standard basic military training with an extra mental challenge added.
Cell phones are not allowed.  "No Wife, No Horse, No Mustache, No Cell Phone."  There are only two ways he can communicate with the outside world.
1. Regular snail-mail.  E-mail is not allowed.
2. He can ask the Commander for permission to use the commander's phone.
Realistically, there is only one real way to communicate with the outside world, snail-mail. I am confident that asking to use the commander's phone, absent a dire emergency, will hurt more than sticking a #2 stubby lead pencil in your left eye.
A – Day or Acceptance Day into the Academy follows his completion of Basic Training.
Keila plans to major in math during his undergraduate work.  Additionally, he expects to explore becoming a member of Army Special Forces or a member of the Army Rangers.  Included sometime in his future is the possibility of attending law school.
Keila, we are all proud of your hard work, excellent decision making, superior maturity and your achievement profile.
Just one word of advice.  Do not let your superiors in Basic Training know I already call you General.  If they find out, you will have to do extra push-ups for sure.