Story & Photo – Joseph Boyle
The two signs in my photo (below) are related in a sad way. The Ehli Auction A-Board sign reads "Auction Preview Today" with a giant black arrow pointing towards Kimberly's Cafe Sign. I stopped by Kimberly's Cafe, which is a part of Clover Park Shops located at 11126 Gravelly Lake Dr SW, Lakewood, Washington, to find out why an auction sign was posted in front of the business. I learned that everything inside the business was going to be sold at auction. You can check out Ehli Auction at www.cyberauctions.com.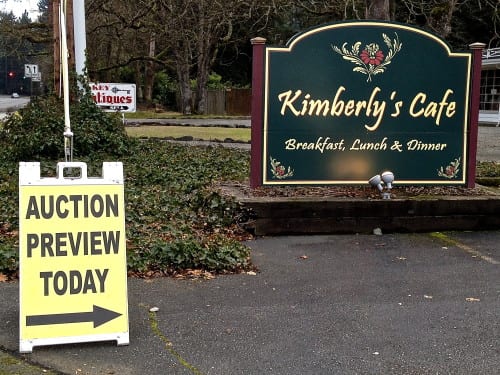 A neighborhood restaurant can be a wonderful place when you step through the door to find friendly service, tasty food, refreshing beverages along with a fun atmosphere for friends and family to gather.
The previous restaurant, known as Vine Bene' and the current restaurant, known as Kimberly's Cafe, share one thing in common. Both owners are named Kim. I refer to the owner of Vine Bene' as Kim 1. I refer to the owner of Kimberly's Cafe as Kim 2. Kim 2 took over the operation when she purchased the restaurant from Kim 1. Because life is an adventure, we now find both Kims moving on, leaving our neighborhood restaurant behind.
I found everything inside, including all the kitchen equipment, to be for sale. This fact saddened me. I became fearful we might not get another neighborhood restaurant in our historical Clover Park Shops. I crossed my fingers and hoped my fears would prove to be unfounded.
My long term life experience, caused me to fear a worse case scenario. For me, worse case would be having a tattoo parlor or a marijuana dispensary open in the old restaurant space.
I have good news from a reliable confidential source. No, I am not talking about Deep Throat. My source is just one of my friends who knows stuff.
Here is the good news. A well established, well run bistro is going to take over both the space now occupied by Kimberly's Cafe and the business space next door, known as Children's Trading Post. The new owner is expanding the size of the restaurant by filling both business spaces.
This is great news. I can hardly wait to try out our new neighborhood restaurant.
For those who love being customers of Children's Trading Post, you have not worries. The Children's Trading Post is moving about 6″ to the other side of the wall just around the corner where The Shibori Dragon was located in Clover Park Shops. The front door of The Children's Trading Post will actually be closer to your house. That will be handy.
As I learn more, I will try to share more. Right now I am only left wondering, will the owner of the new restaurant be named Kim 3?
Bon Appetit.