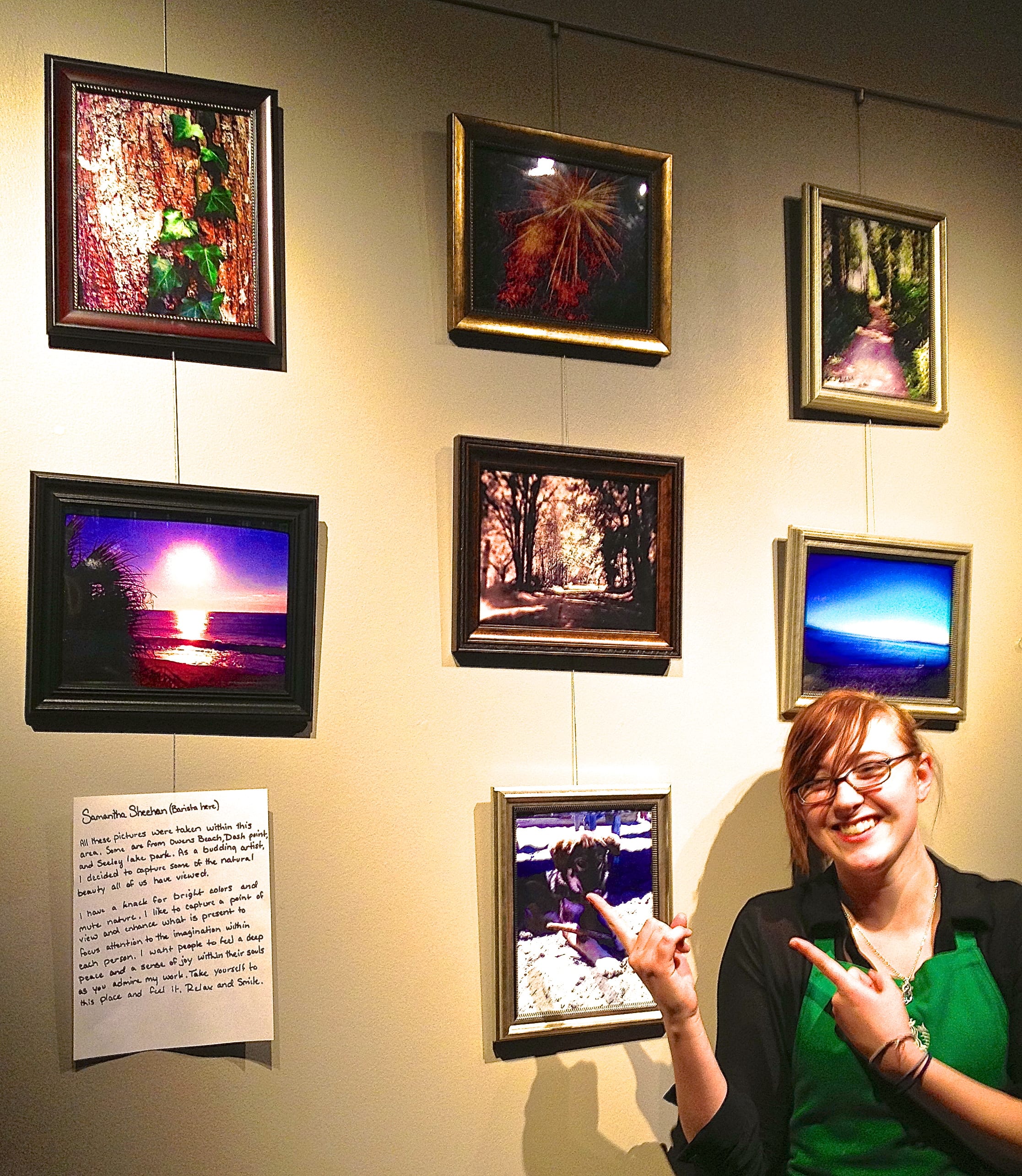 By Joseph Boyle – Raconteur
The other day I was hanging out at Starbucks when I was contacted by a young woman who asked if she could show me her photography portfolio. The woman's name is Samantha Lynn Sheehan. She goes by Sam and works as a Starbucks barista. Sam disappeared and quickly reappeared from the Starbucks back room with her delightful collection of photo art.
Because Sam is young and I am not, I realize it takes courage for a 17 year old to strike up a conversation with a guy who is old enough to be her great grandfather. Do you remember when you were young and innocent? It can be challenging to know how to navigate your way through life when you are just starting out.

After enjoying her photos, I thought it would be kind to ask her the question I could see she wanted to ask me.
My lead-in question was, "Sam, might you be aware I have written several articles for The Suburban Times covering local artists and their art displays at the Starbucks Community Art Wall?" Sam answered in the affirmative. With my foundation question out of the way, my key question came next. "Sam, would you like me to write an article about you and your art?" Her big enthusiastic smile was followed by, "Yes, I would."
We held our interview at Starbucks on Sam's 18th birthday.
I encourage you to stop by Towne Center Starbucks located at 6040 Main St SW, Lakewood, WA 98499 to see what an accomplished young woman is doing in our community. Should you wish to purchase a photo for yourself or as a gift, each piece is attractively priced at only $30, including the frame.
You can phone Sam at 360-878-2667 or contact her at Starbucks. If she is working, Sam is easy to spot. She always wears a green apron.
Sam's photo collection is from our local area including Owen Beach, Dash Point and Seeley Lake Park. She wants you to feel a deep sense of joy within your soul as you view her work. As you gaze at Sam's photos, take yourself to that place; relax and smile.
Sam pursues a variety of artistic interests including photography, sketching, sculpture, water colors, pottery design and interior decorating. She plans to take more art classes and in particular wishes to take up glass blowing. Her next big life decision is to decide which art school to attend.
On Tuesday, December 17, 2013, between 6:00 pm and 7:00 pm, she will be hosting Starbucks Art Night for kids at the Towne Center Starbucks. After demonstrating how to sketch, kids in the audience will be given an opportunity to make their own sketch.
Looking ahead, Sam will return with her second Starbucks Community Art Wall display during the entire month of April 2014.
Sam is successfully moving forward with her art endeavors. After all, it is a significant accomplishment, especially at age 18, to have built a body of work that is displayed in a public forum. I am proud of this young woman's accomplishment.
Sam is a success, but she has experienced failure on her way to success. Sam shared with me that although she loves art, she failed her 7th grade art class. Her assignment was to sketch an image for a label for particular business that had been selected by her teacher. Sam did not follow her teacher's guidelines and instead made a sketch for a label for her own business. Her artistic and creative drive overshadowed the teacher's personal vision. While her independent thought caused a problem with her art class grade, that same independent thinking may serve Sam well in real life. I would have given Sam an A+. After all, art is supposed to be a creative process.
Sam's art class failure reminded me of my own trouble with an art class back in 1962. Every student attending my university was required to take a class titled, Understanding The Arts. Like Sam, I loved my art class, but because I did not wear a skirt, I had no hope of getting a good grade. For some unknown reason the professor, who had never married, hated men. If you were a male student, the top grade she would give you was C. If you were a female student, she would give you an A. I guess we could call this gender based grading.
Sam, these kinds of failings are momentary chuckholes in the roadway of life. Press forward and please do not lose your spirit, enthusiasm and your desire to further develop your art skills. If you keep all that going, success will come your way.
Readers, if you have the opportunity to see this young artist and her collection, be sure to tell her, Joe Boyle sent you.