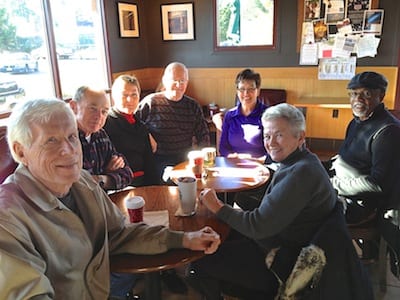 Story & Photo – Joseph Boyle, Raconteur
A little over a dozen years ago, Wally Baade struck up a conversation with Hank Brown at the Starbucks on 100th street in Lakewood. The two men sat down together with their hot tasty beverages and continued conversing. The rest is history as this two person conversation blossomed into what I call the Koffee Klatch. When the group, which soon expanded to 12 individuals, started on 100th street, it was like the bar on the TV show Cheers, "Where everybody knows your name."
Sadly, 100th street Starbucks closed. The Koffee Klatch moved their entire operation over to the Towne Center Starbucks. Up to 12 coffee drinking friends gather several times a week. A few regulars missing from the photo are Sandy and Jean Mazzei, John and Marlis Amaya, Vern Larson and Geri Rupp.
The Koffee Klatch members swap stories, tell jokes, socialize with one another, talk a little politics, raise each others spirits and generally have a good time. The discourse is mainly positive and upbeat or funny. Most members are retired. Many worked in education, the military or medicine before retiring.
From time to time, I have infiltrated the group as a special guest cappuccino drinking story teller. They are a fun bunch of quality people to spend time with. Each one of them has a story too; I mean an interesting personal life story. One member is related to General George Armstrong Custer, (b. 12-05-1839 d. 06-25-1876), famous for The Battle of the Little Bighorn in 1876. One member, during his college years, worked along side Martin Luther King, Jr. (b. 01-29-1929 d. 04-04-1968).
If you spend time observing the happenings at Starbucks, you will soon notice groups of people meeting: small groups and large groups mixed among the twosomes and threesomes.
You should feel free to join in or start a group on your own. It is easy to do. There is no paperwork, dues, taxes, bylaws or mandatory meetings. The required minimum number of members is two. If you start meeting with a friend on a regular basis and then let others join you, your horizons will expand.
Having connections outside your home and personal tight circle of friends can be extremely beneficial to your over all well being. This is especially true when a close friend, relative or spouse dies. Human beings need positive connections with other human beings to maintain a healthy mental state. Try it. It will help keep you healthy and young.
How should I close this article? I know, I will borrow from Poet John Donne who wrote, "No Man Is An Island."