Story & Photos – Joseph Boyle
This past May, during my motorcycle trip to Clarksdale, Mississippi, my pal Drew's wife, Patricia, said, "Hey, I have an idea.  You two "Wild Hog" motorcycle riders should pay a visit to Abe's Bar-B-Q joint"  The restaurant is located at 616 State Street, Clarksdale, Mississippi, 38614.  Phone: 664-624-9947 or 664-624-5367.
I met Drew and Patricia in grade school during the 1950s.  Patricia is always coming up with "a good idea".  Patricia has never given us a bad idea, so based on Patricia's unsolicited-idea track record, we visited Abe's within 180 minutes of our arrival.
There were many happy people inside Abe's chowing down on pulled pork, ribs and other specialty items the joint is famous for.
I like to support small business ventures and this business comes with rich history dating back to 1924.
Abraham Davis immigrated to America from Lebanon when he was 13.  He opened his first rib joint in Clarksdale, Mississippi at the Crossroads, where Highway 49 and Highway 61 intersect.  It was originally called Bungalow-Inn.
Myth has it that the Crossroads is where Blues musician Robert Johnson traded his soul to the devil to become one of the greatest Blues musicians of all time.  There are two giant guitars marking the spot known as the Crossroads, a place referenced in the Eric Clapton's song of the same name.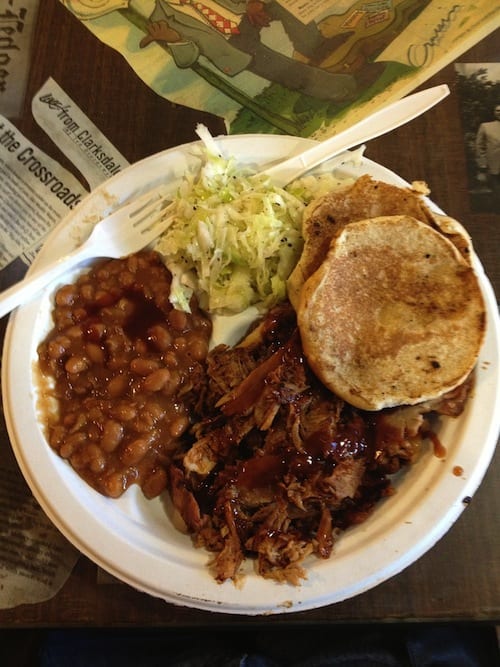 It was reported in a CNN article that Pat Davis, Abraham's son, witnessed an incident in his father's restaurant in 1947, when Pat was 10 years old.  Two black men came into the restaurant.  Four racist white men began shouting every nasty name they could come up with targeting the two black men.  Abraham stepped in and told his white customers, "These are people who want to eat just like you want to eat."  He told them to leave them alone.  The white racists told Pat's father that he could lose his restaurant if he let blacks dine at his establishment.  That was 1947, the business is still open and growing strong.
Abraham defied segregation and his son followed in his footsteps.  The family has served up generous portions of racial equality and great food since 1924; a pattern that continues to this day.  Pat renamed the joint after his father, Abraham.  It is now known as Abe's.
Forgive me for using the word great multiple times in a row, but I think is the right word for my next sentence.  Drew and I had a great time with great people and great food.  Abe's features "Come back sauce".  Once you try the food, you want to come back.
If you make it to Clarksdale, Mississippi, check it out.  Don't tell them Joe Boyle sent you.  They have so many customers from all over the world, they have forgotten who I am already.