The City Council will consider a recommended ordinance change to the city's weapon laws on August 5 perhaps to address what happened very late one evening this past month.
Shortly before midnight on June 18, twenty-eight year old Patrick O'Meara was shot dead at a Tillicum residence by Lakewood Police.
In a follow-up story June 24, Lt. Chris Lawler stated that the four officers at the scene believed the cap pistol O'Meara was holding at the time was a firearm.
"Officers approached the residence and knocked on the door, announcing that they were the 'Police'.  Other officers were standing at the side of the residence at a window and spotted O'Meara inside, armed with a firearm.  Despite repeated attempts to order O'Meara to drop the weapon, he refused and forced officers to fire their weapons," killing O'Meara.
Now, in a letter dated July 25 to the Mayor and City Council, Matt Kaser, Acting Lakewood City Attorney, suggests the following change:
"It is unlawful for anyone to carry, exhibit, display or draw any pistol, rifle, dagger, sword, knife or other cutting or stabbing instrument, club or any other weapon item apparently that appears to be capable of producing bodily harm, in a manner, under circumstances, and at a time and place that either manifests an intent to intimidate another or that warrants alarm for the safety of other persons."
Both "weapon" and "apparently" are crossed out, while the word "item" and the phrase "that appears to be" are inserted.
The document may be found at this link and click on "Study Session Agenda July 22, 2013," and scroll to pages 37-43.
The amendment here referenced would allow "the act of the display of an item purporting to be a weapon (to be) treated the same as if it were a weapon" evidently an attempt to clarify, and give strengthened support for, what happened to O'Meara and others wielding toy guns in such scenarios.
As serious as such life-and-death matters are, word-changes to address weapon violations – or "items" that shall now,  if this ordinance change passes which is likely,  be considered weapons that weren't heretofore weapons – stops short, far short, light-years short of the discussion that should be taking place in city hall and in neighborhoods and across this city if not country.
Why, in the name of "protect and serve" did O'Meara have to die?  And is a word or two difference the only difference that will be made per the "making a difference" logo emblazoned on Lakewood's patrol cars?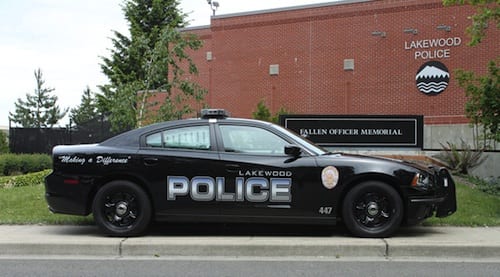 The pat answer is cold, calculated, confrontational, and even crude: pull a weapon – now retroactively even a pretend weapon – and pay the ultimate price.  About which I've written previously.
And does the Lakewood Police Department's Use of Force Policy – a copy of which I have been promised early this coming week – have a preamble or mission statement the purpose of which "is to communicate both to the community and to police officers that the preservation of human life is at all times a central tenet of the police agency"?
And does the Policy's introduction fail to instruct LPD officers "that the use of deadly force is an extreme measure to be employed only in the most limited and extraordinary of circumstances"?
These questions were raised in extensive investigative research conducted by the ACLU of the Las Vegas Metropolitan Police Department (LVMPD) – which was found significantly wanting – in a 2012 report that reviewed use of force policies from various police departments and law enforcement agencies in Los Angeles, Denver, Louisville, Portland (Oregon), Philadelphia, and Washington DC.
The American Civil Liberties Union found that whereas "Louisville Metro and LAPD both explicitly communicate its mission to serve as guardians of the public and to preserve human life above the use of force, in contrast, LVMPD's introduction section does not direct officers to value the preservation of human life over the use of force."
The ALCU recommended, in keeping with life-over-force preambles, "that an officer may withdraw to a position that is tactically more secure or allows an officer greater distance in order to consider or deploy a greater variety of force options."
It's what David M. Kennedy wrote in his book "Don't Shoot," wherein he concluded "Nobody should go to prison who doesn't have to," any more than anybody should be shot who doesn't have to be.
In other words, wordsmthing, word changing, deleting a noun here and adding a phrase there, isn't what "making a difference" should mean.
Not when life matters.  Not when community matters.