By David Anderson
Now, Mr. John Caulfield, let's talk about what you are reported to have said in your 'hire-me-as-your-new-city-manager' speech.
According to former City Councilmember Walter Neary's blog, when you and the other candidates were asked about what mistakes they'd made in their career you "chose the most painful example, where (you) could have done better handling community input and speaking to a community about a difficult subject."
Neary suggests (admits?) "We've struggled a bit in Lakewood with how the city government handles difficult subjects with its citizens."
Change "a bit" to 'a lot' and you have it from me, as President of the Tillicum Woodbrook Neighborhood Association, a far more accurate assessment of the extreme angst and animosity that exists betweenPlanet Earth and City Hall.
I am not presuming to tell you how to do your job, after all your pay scale, responsibilities, experience and neighborhoods you will represent are all factored exponentially above mine.
Besides, what is Tillicum anyway but a land-locked, impoverished, uneducated, non-voting, military-overrun – literally in the latter case, to read what others have wrote about us – one whole exit removed from where the rest of the city and world lives.
Maybe you don't want to read this until after the reception in your honor has been held, the cake cut, well-wishers extend their congratulations, balloons are popped and you get the grand tour of your new digs.
But then when you're settled in and begin the work of assessing priorities here's some thoughts to consider along the lines of your 'greatest mistake' – that of mishandling community input.
It concerns me when Neary references your 'secret brother' – non-relative of course – relationship to Bill Harrison and Doug Richardson with the obvious purpose, and in the same breath, to somewhat fawn over the larger military family, i.e. Camp Murray and JBLM, to which you are related as once a sergeant stationed at Ft. Lewis and therefore familiar with neighboring Tillicum.
"Caulfield said he decided to stay in this area," Neary wrote, "because all the people he met outside the base were so kind and warm to soldiers, especially the people of adjacent Tillicum."
As Tillicum welcomed you then so we do all our troops.
Stop in at Gertie's Grill for breakfast, lunch, dinner or just a cup of coffee but do not miss the tears in owner Sue Rothwell's eyes as she turns the pages of the scrapbook of soldiers who once sat where hopefully you will; troopers, husbands, fathers, breadwinners who won't be returning but who died in the service of their country.
Cross again, as you no doubt did many times when stationed here, over "Freedom Bridge" just mere steps away from Gertie's door; a bridge which connects us – and not just in concrete – to JBLM; a bridge officially renamed from milepost #122 to honor the men and women who themselves cross over our economic life-line of I-5 on their way to distant lands to defend the lives and freedoms our own homeland enjoys.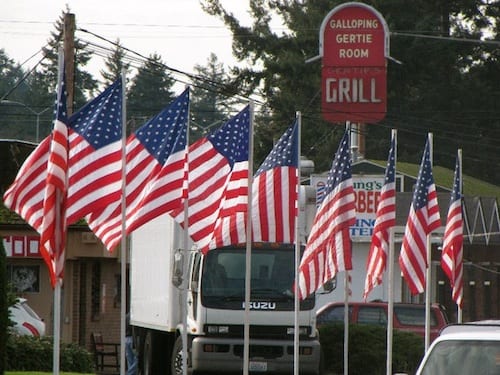 Drive down Union Avenue, Tillicum's main street, where nearly one-hundred 4×6-foot American flags proudly wave their colors atop 16' poles, many of them having flown over the nation's capital.  Installed by our local Veterans of Foreign Wars, and flying from Flag Day to Independence Day, the flags on both sides of the street form a red-white-and-blue mile of pride, a parade-ground if you will, down which returning troops have occasionally even detoured to catch a reminder of why they fight.
My father, and of course as many in Tillicum can say of their own fathers in various branches of the military, served in WWII in the 10th Mountain Division, ski-troops, Italy.
All that being said, our community recently lost a three-year battle – as if we should be fighting at home to defend our own territory – against the military as the Lakewood City Council stood by because, as at least one member will claim, it was not their role to intercede on behalf of the citizens they were elected to represent.
Writes Neary, "The City Council, in theory, only sets policies and priorities, though the council does dive into details when it approves a budget."
But battles?  The Council didn't budge.
To add insult to injury, in what I would at best describe was a most feeble attempt to explain why Tillicum lost, Neary wrote "If the military announced that it is going to change traffic on my home, School Street, for the betterment of uniformed personnel and the nation's security, then I better be prepared to suck it up."
Mr. Caulfield, we do not suck up to the military.
Neary's theory postulates that since "forces are willing to give their lives for you, for me, for people in other countries," that they should then get what they want when they want it here at home.
Mr. Caulfield, we do not salute, we vote.
Mr. Caulfield, to be forewarned is to be forearmed.
A community ought not to be for sale to the highest bidder, to the one with the most money, or the one with the most might and power.
A community does not simply occupy space that somebody else wants.
A community is comprised of citizens, each of whom gets one vote.  No one ought not to be able to purchase more votes; pressure for more votes; or plead their hero-status for more votes.
Or to get what they want.
Elected representatives, and city-hires, have a first priority to represent their electorate.
"I'm not sure what Caulfield could have said that would have been more heartwarming to the crowd," Neary declared, referencing your flag-waving acknowledgement of the military.
Here's what would have been more heartwarming.
In your role at City Manager be a barn-raiser not a vending machine.
This metaphor, originated by Rick Cole, former mayor of Pasadena, California pits the traditional concept of government as a service provider – kicking out services for taxes deposited – versus the 'closer to the people' model which Frank Benest, city manager of Palo Alto, says "requires significant outreach and building of rapport with individuals, families, and groups in a targeted neighborhood."
Put rather crassly, when cities "struggle a bit" with community relations chances are the root cause is more than likely due to the former's interest in what is in citizen's wallets than in winning their hearts.
Business owner Alexander Douglas wrote, "Businesses (or for that matter governments) that treat customers as subservient to them misunderstand the role of the customer as the employer."
But we are not customers.  Nor are we clients.  And while it's true we are not the chamber, the casino, city hall or city council and thus would appear to have less clout, we do have, or should have, an advantage over them all.
We're citizens.
And as citizens you'll find us at the top of the city decision-making flow-chart.