Story – Joseph Boyle
It has been one week since I started my new life serving our community as a retired guy.  Someone has to do this important work.  I am doing my part by hanging out at Starbucks with no visible means of support.  My friends are hoping I have some invisible means of support.
Plus I opened up an opportunity for a young guy or gal who is waiting in the wings for my job.
Several people have asked, "What's it like being retired?"  They then went on to say, "Oh Joe, it is probably too soon to tell."
It is not too soon to tell.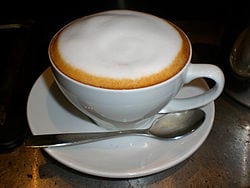 I can now sit around drinking short wet cappuccinos.  Since I am on a fixed income, I would not behave in a fiscally irresponsible manner by ordering a venti size cappuccino.
I can tell you this.  There is no Retirement Handbook that goes along with this giant lifestyle change.
I loved my life as a guy with a job, but now realize that I might have retired just in the nick of time.  While I never complained about the amount of work, number of cases, trying to do more with less, my involvement with sad and broken lives along with the grizzly crime scenes I dealt with over the years; I think my head was ready to explode.  There just was no more room in my head to hold any more details, memories or responsibilities.
The first thing about being retired is that I am reaching a new level of relaxation.  As my brain cools down, my ability to remember names and particular words has greatly improved.  I just told my pal Tom, I feel I can now take him up on his offer to teach me how to play cribbage.  I had no room to learn cribbage before.
On my first day off as a retired guy, April Fools Day, 2013, we hosted a retirement party for my friends from work.  We had a caterer help us with the food.  As our guests began to arrive, one of the catering staff noticed everyone was wearing a gun.
The staff member, with a look of fear in his eye, asked his boss, "Is there a reason for all this security?"   She had to explain that the host was retiring from the police department. He breathed a sigh of relief.  At first he thought there might be a hit out on the host or maybe I was a part of the Irish Mafia.
Have you ever experienced having your productivity crippled by vacillating back and forth regarding what you should accomplish next? An example might be, "I think I will wash the car…no, no, I better mow the lawn, but what about cleaning out the garage?  I need to go shopping for a weed eater.  It goes on and on.  You stand there doing 360s as you circle from one thing to the other, never feeling comfortable with your choice as you start thinking about what else you should be accomplishing on your To Do List.
Now that I am retired, I can work a project and not be distracted by other things I think I should be doing.
I now can select one item on my list and run it to the ground until it is completed.  I realize the next item can be handled after I finish the item I am currently working on.  I am not trying to cram everything into a two-day weekend.
There is a feeling of great excitement, like being out on high school summer vacation.
Oh, I should have mentioned.  There is way more time for fun and time with friends.
So, what is it like being retired?  It is indeed, a new life adventure.  I say to my friend Edra, the Starbucks barista, "Another cappuccino, please."