Story – Joseph Boyle, Photo – Hayley Austin
Just this past January 31, 2013, I attended a Law Enforcement Academy Officer Graduation at Washington State Criminal Justice Academy in Burien, Washington.
The ceremony was meaningful to me for two reasons.
Reason Number 1 – OUT WITH THE OLD: I have been blessed with a law enforcement career, which for me has been the greatest job in the world.
My career will be over this coming April Fool's Day.
It is impossible to describe what a grand privilege it has been to serve our community of Lakewood and the greater Pierce County as a law enforcement officer.
The work is important to those we serve.  The work is fascinating and exciting.  The work is a huge physical and mental challenge.  I experienced passion for every single assignment.
It is clear to me that I never owned the job.  Others had the job dating back into the 1800s. I must now turn my law enforcement position over to someone new.
Reason Number 2 – IN WITH THE NEW:  Now let me tell you about a young man from our own community that I am proud to know. His name is Officer Michael Schlotterbeck. I met Mike a good number of years ago when he worked as a City of Lakewood businessman in the role of insurance agent for American Family Insurance in the Lakewood Towne Center.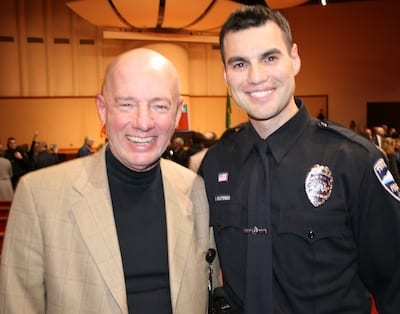 Michael was born in Tacoma and graduated from Franklin Pierce High School in the early 90s.  Following high school, he attended Pierce College.
During the 1995 – 1996 time frame, Mike volunteered as a Pierce County Sheriff's Department Cadet.  He learned a lot in this specialized Boy Scout law enforcement program.  He worked out of what was known as the Pierce County Sheriff's Department West Precinct in Lakewood.
As a young man one of Mike's early jobs was in the grocery business.  A part of his job included capturing shoplifters.
Mike has always been athletic.  He could run after a fleeing shoplifter until the shoplifter dropped all his stolen meat and gave up.  Mike would not even be out of breath.
It was in about 2006 that Michael started his insurance career.  We met because I was looking for a new insurance agent.  He impressed me from the first day because of his quiet intelligence, pleasant demeanor, industrious work ethic and his positive can-do attitude along with his strong ethics.
During the next six years we met from time to time.  One of our frequent topics dealt with what it was like to work in law enforcement.
I could tell Mike had a strong long-term interest in becoming a law enforcement officer.  I was his mentor.  He was my student.  A significant number of people helped me when I was young, so I liked giving back by mentoring Michael.
Ultimately Mike started testing for law enforcement positions.  It was fun for me that the Tukwila Police Department chose Michael to be one of their new recruit officers.  During the early 1950s I had grown up in Tukwila when it was just a wide spot on a dusty dirt road.  There was no South Center Mall or I-5 Freeway.  That is no longer the case.  While Tukwila is only about 9 square miles, thousands of people live, work, play, shop and pass through Tukwila.  Tukwila P.D. is a very busy police agency.
Last September, Mike and four other recruits from Tukwila P.D. headed up to the 686th session of the Basic Law Enforcement Academy.  For reference, my academy was the 357th session.
In the academy, everyone had a nickname.  Mike's Tactical Officer tagged him with Shutterbug, because it was not easy to pronounce his real last name, Schlotterbeck.
Mike confirmed what I had learned back in about 1990.  When you are in the academy, the academy is your life.  You have no life outside the academy, if you wish to succeed.  The academy is a stressful experience for the recruit and his family.
After graduating from the academy, he is now learning by working in the streets.  A Field Training Officer (FTO) rides with him in the car everywhere he goes.  The FTO is observing, teaching, praising and correcting.  The FTO is helping to shape Michael into an independent fully functional police officer.
Before you know it Mike will go solo and then he will one day become another recruit's FTO to keep the thin blue line solid and moving forward.
Mike and I work for different agencies, but we both wear the badge as brother officers.  I know Michael will serve in a highly credible and honorable manner for both his agency and the law enforcement profession in general.
I have 30 days left.  Mike has 30 years left.   Where he is, is where I was.  Where I was, is where he is.
Officer Schlotterbeck, I am happy to turn in my badge knowing you are taking my place.