Story & Photo – Joseph Boyle
We hear about kids and bad behavior all the time.  Remember my article on graffiti? Well I have a "good kids" story this time.  No, actually it is a "great kids" story.
A nice citizen contacted Ben Sclair at the world headquarters of The Suburban Times with a story suggestion.
After Ben asked me to follow up, I set up an interview at Starbucks.
The star of the show is 12-year-old Ashley Aldridge.  Ashley attends a Service / Leadership Class in her school.  The class requires each student to complete a project, so here is what she came up with.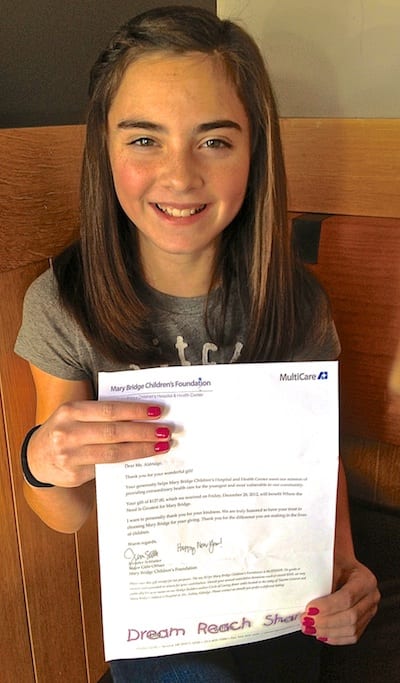 Firstly, Ashley wanted to be certain that I was aware that she did not accomplish this marvelous feat all by herself.  Her partner in this good works effort is her friend, Hailey Hazen.
Ashley and Hailey got their heads together and came up with an altruistic plan to make money.  Ashley has strong entrepreneurial energy.  She is good at making money.  This time, though, she wanted to make money for the sick children who were forced to stay in the hospital at Mary Bridge Children's hospital in Tacoma during the Christmas holiday.
The two of them orchestrated a fund raising project in their neighborhood.   They raised over $125.00.  Remember, these two are only 12.
They hand carried the money to Mary Bridge Children's Hospital.  My photo shows Ashley holding her thank you letter from the hospital.
You would think that would be enough good work, but not for these two loving kids.  They made about 50 handmade Christmas cards so each "shut in" child received a great Christmas card on this important holiday
Ashley and Hailey, we love how you put your creativity and energy in motion for such a positive and loving project.
Thank you so very much and keep up the good work.  Because of you two, the world is a better and happier place.