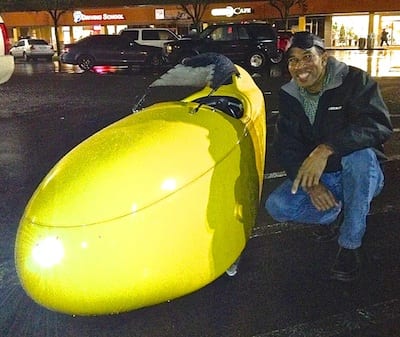 Story & Photos – Joseph Boyle
A couple nights ago, I was sitting at one of those really cool high-altitude cocktail lounge style table and chair sets with my pal, Ronnie McKinney, at the LTC, (Lakewood Towne Center), Starbucks.
All of a sudden I see Ronnie back stepping off his chair, knocking his tasty adult caffeinated beverage on to the floor in the process.  As he reaches the condiment stand with a petrified look on his face, he screams, "Look out, Joe!
I look out the window and see, what can only be described as, "The outer space banana invasion".
Because I am able to remain calm under high stress, I finished my short wet cappuccino, better known as a "Joe's Special", before wandering out into the Starbuck's parking lot to check out the newly arrived banana.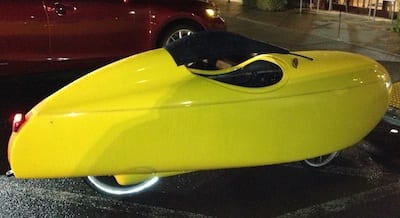 No worries, folks.  It turned out to be an innocuous ground surface transportation unit commonly known as the recumbent bicycle.  This particular recumbent was significantly different from what we normally see.  It had what we might refer to as a "bicycle body" like a car body.
The banana's proper name is velomobile or bicycle car.  Quoting the opening line in Wikipedia, ""A velomobile, or bicycle car, is a human-powered vehicle (HPV) enclosed for aerodynamic advantage and protection from weather and collisions."
The owner flipped the top off and stepped out.  We were happy to see that the banana operator was not a green Martian.  He did have a Canadian sounding accent though; so we think this could still be considered an alien invasion.
He plans to commute to work, thereby saving a bucket of cash on gas.  He also has plans to ride the banana all over the USA.
Ronnie posed next to this mass of yellow, so that we could demonstrate the scale or size of the rolling banana.
Because Ronnie owns a yellow Corvette, he was immediately attracted to the velomobile.  He would like to own one as soon as he gets his hands on the purchase price, which is about $5,000.00.  Wow, I remember buying a bicycle for $35.00 with 3 E-Z payments.
The Suburban Times staff is bringing this informative and well-researched article to you as a matter of public safety.  We do not want any of you driving off the road in a panic, should you spot the banana out on the open roadway.
If you would like to learn more, a Google Search for velomobile will take you to more details and photos.
I have to tell you.  When a guy my age, who thinks he has seen and knows everything, sees something new, it is always an exciting and humbling experience.