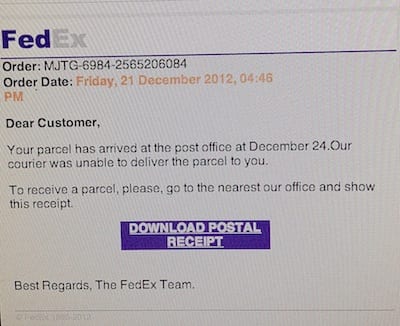 Photo & Story – Joseph Boyle
Short Story: Step 1.  Look at my photo.  Step 2. If you receive a similar e-mail, ignore the spam / scam communication and push delete.
Full Story: While out of the city my wife and I both received an e-mail informing us that FedEx attempted to deliver a package to us.
There is a button on the e-mail that reads "DOWNLOAD POSTAL RECEIPT.
When you push the button, nothing much helpful happens.
I thought this might be a scam for several reasons:
I was not expecting a package to be sent to my home.
My wife and I both received separate email notices.  How would FedEx obtain my e-mail address in the first place?
The first line states," Your parcel has arrived at the post office at December 24.  Our courier was unable to deliver the parcel to you. (To the best of my knowledge, FedEx delivers to your home or business address, not to the post office.  The post office is FedEx's competition.  There is a language arts weakness with the second "at" just before December.  It should read"on December", not "at December."
The second line reads, "To receive a parcel (It should read "your" parcel…).
The second line goes on to read, "go to the nearest "our" office and show this receipt.  This is a hint of a poor English as a second or maybe 6th language grammar defect. The sentence should read something like, "Go to "our" nearest office…  Language arts defects serve as our first clue that we are reading a scam letter.
Additionally, the writing refers to "show this receipt".  The original document is not the receipt.  By the document'sinstructions, you must push the "DOWNLOAD POSTAL RECEIPT" button to obtain the necessary receipt.  It should be a FedEx receipt, not a Postal Receipt, since the post office has nothing to do with Fed Ex.
The numbers in the communication mean nothing to FedEx.
I paid a visit to my local FedEx office and they confirmed my suspicions. [FedEx posted information on its website.]
If you get a spam e-mail of this type, I recommend you simply hit your delete button.  Don't waste your time.  I have already wasted my time checking this out for you.  We are passing my wasted time on to you as a free service from The Suburban Times. With the time we saved you, it is our hope you will do something fun and constructive.