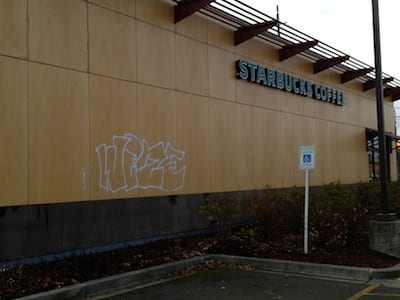 Story & Photo – Joseph Boyle
The other day… That's right, I was at Starbucks, which is a happy place for most patrons.
I was highly disappointed to see that a lowlife had destroyed four of the beautiful exterior wood panels on the Starbucks building with their stupid gangbanger or skate board tagger illiterate markings.  It looked like $3,000 worth of damage to me.
Society calls them graffiti artists, but a more apt term might be graffiti criminals, jerks, scofflaws, mutants, human rejects, losers or parental failures.
While the rest of us dream positive dreams, go to work, and build businesses so others can have jobs, graffiti vandals spend their waking hours tearing down our communities with their ridiculous vandalism.
Graffiti criminals are cowards about their pursuit based on their practice of frequently using lookouts or painting late at night under the cover of darkness when they think no one will catch them.
I say to you parental failures, climb aboard a leaky ship bound for a 3rd world country.  I can talk like this since graffiti artists are not yet a protected class.
If you do not like our USA pursuit of excellence life-style, you might love what a 3rd world country slum has to offer.  You will enjoy sewer running in the streets, buildings falling down, cardboard shacks, rampant crime and graffiti everywhere.
Stop trying to pull our country down to slum conditions.
For any readers who agree with me, call the cops when you see one of these cowards sneaking around vandalizing our neighborhoods.
Parents, remember it is against the law to take your little failure down to the river in a gunnysack filled with rocks, but if you really must do so to solve the problem, I will provide you with a free gunnysack.