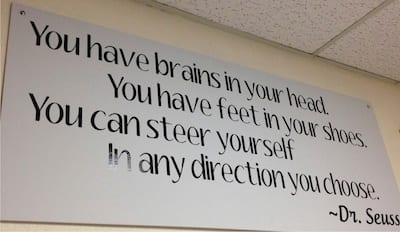 Story & Photo – Joseph Boyle
I found myself in another school principal's office the other day.  I noticed the sign depicted in my photo posted prominently on the Principal's office wall.
"You have brains in your head. You have feet in your shoes. You can steer yourself in any direction you choose." – Dr. Seuss.
Sometimes a few words can really say a lot.  Sometimes a lot of words can really say very little.
Dr. Seuss offers a powerful message to kids and adults alike.  Life is all about choices.  Make good choices and you are likely to end up with a great life.  Make poor choices and you may be doomed to complain for all your days, "Poor me."
The past, 2012 is almost over.  The future, 2013 is just ahead.  Start now to use your brain and feet to march towards a great new life.
I will stop writing so you can concentrate on thinking about the message contained in this simple but prophetic sign.