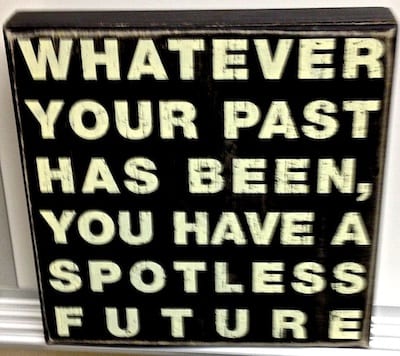 Story & Photo – Joseph Boyle
The other day while I was at work I found myself inside the Vice Principal's office.  It was a fairly comfortable experience for me since I spent a lot of time in the Vice Principal's office back in the 1960s during my high school years.
While looking around, I spotted this great sign posted for all who enter her office to see and ponder.
I wanted to share it with all of you.  I hope you will share it with others.  I think it is a great concept.  We have no control over our past decisions and mistakes, but we can try to make good decisions thereby avoiding mistakes in the future.
Her sign also suggests forgiveness.  It is possible for us to choose to forgive past transgressions of others, especially if the offender stops offending in the future.
I am going to keep this article to 176 words because the ten words on the sign gives us the real story.