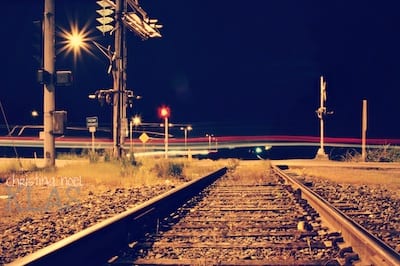 By David Anderson, Tillicum Woodbrook Neighborhood Association, president
Now that yet another death has occurred by train along Amtrak's waterfront route, it is fair – again – to raise the question as to the wisdom of moving these trains to the life-congested tracks of Lakewood.
Let alone do so without grade separations.
Last evening an Amtrak Cascades passenger train hit a pickup truck, killing the driver.  The accident occurred along the Puget Sound waterfront route as the train headed for Portland from Seattle with 153 passengers on board.  The train remained at the site with no estimate at the time as to when the investigation would be completed allowing the train to proceed.  (Update: a person stating that they were a passenger on that train reports in a comment to the article linked here that the train remained at the scene of the accident for five hours.)
The Washington State Department of Transportation (WSDOT) has recently released its accident analysis as part of its Environmental Assessment (EA) concluding that safety improvements known as grade separations – raising or lowering the track separating train travel from roadway traffic – are unnecessary for its proposed Point Defiance Bypass Project.
WSDOT contends that the likelihood of the half-dozen or more trains-  that are planned to be rerouted from the Puget Sound shoreline through Lakewood's busy intersections with even more trains likely in the future at 79 mph several times per day seven days per week – hitting cars, trucks, buses, emergency vehicles, kids on bicycles, mothers pushing strollers, elderly on walkers, is predicted to be very rare, a rather remarkable finding given one independent analysis that questions WSDOT's forecast of grade crossing crashes as unrelated – at best remote – to the number of trains passing through.
Given recent accident records – just for the current route along the waterfront not including the grim statistics of 2005 when nine train deaths occurred in Pierce County alone as reported by Mike Archbold in the Tacoma News Tribune October 26, 2008 – the Lakewood public deserves a thorough explanation as to why WSDOT sees little correlation between trains going very fast through busy intersections at increased speeds multiple times per day . . . and accidents being something other than very rare.
"On August 8, 2010, an 18-year-old woman was killed and her male companion injured when they were struck by a southbound Amtrak train near Titlow Beach" (TNT).
On March 26, 2010, "Two people were injured after their car hit a cargo train at a Lakewood railroad crossing" (TNT).
On March 23, 2010 a 20-year-old woman was killed by an Amtrak train at Sunnyside Beach in Steilacoom (TNT).
On October 26, 2008 a woman using a walker was struck and killed by a train as she tried to cross to Sunnyside Beach in Steilacoom, as reported by Mike Archbold in the Tacoma News Tribune.
And now a truck driver is dead, the victim of a run-in with a passenger train.
So let's move that train from an inarguably more remote section of track – in multiplied numbers at increased speeds in increased times per day – to neighborhoods where residents " never banked on heavy rail traffic" and say it won't happen here?
At least not very often?
Were it not for financial and political capital driving this train – as opposed to common sense and practicality, not to mention safety – this bypass operation wouldn't be necessary.
As abundantly documented at www.CommunityMattersWeb.com far more than the cold steel of the tracks and the underlying dirt in this project needs substantiation.
WSDOT has scheduled an open house and public hearing later this month on this project.
Pictured are the train tracks through Tillicum, part of WSDOT's proposed route, as photographed by Christina Noel Klas.