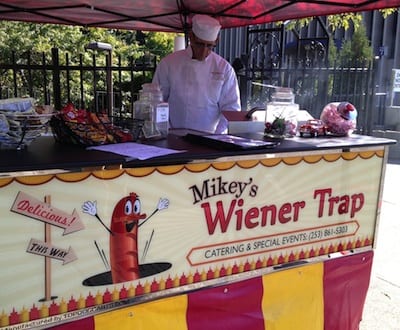 Story & Photos – Joseph Boyle
Back in 1959 Pierce County and the City of Tacoma joined forces to build what is still known as the County City Building located at 930 Tacoma Av S, Tacoma, Washington.
Many of us make trips to the County City Building for all kinds of reasons including court, public records, traffic tickets, adoptions, gun permits, County Executive's Office, Sheriff's Office and the Pierce County Jail, which is right next-door.
It does not matter why you might go there; here is what I wanted to share with you.  On your next trip, if you would like to have fun getting something to eat, try Mikey's Wiener Trap.
Mike Ruger, who retired this past August, after decades of service in and around the medical field, decided to open a street food vendor business.  He has a tent on the sidewalk right across from the County City Building next to the major crosswalk which crosses Tacoma Av South.
I asked him where the name of his business came from.  He told me it was just something rattling around in his head.
Under the tent is all the equipment and fixings for a variety of hot dog style sandwiches.  My favorite is the New Yorker.  Check out my attached photo.  It will make your mouth water.
Going to Mikey's place reminds me of being in New York City or the old TV program, "The Streets of San Francisco".  Remember the two detectives choking down a dog and then rushing off to solve a big case?
Mike does not consider this a job.  It is how he wishes to spend his time meeting and greeting people.  He told me, "Working for yourself is the American dream.
Today I was standing next to the stand chomping down on my New Yorker when a retired judge ordered lunch.  We had a fun conversation about the old days in the County City Building.  Yes, indeed, this might be a great place to meet people from all walks of life while you get a fun meal for a budget saving small cash outlay.  My New Yorker ran $5.50.  The menu has a number of intriguing options ranging in price from $2.50 – $6.50 including sales tax.  You can box your lunch including chips and a beverage for a buck.
After satisfying all the requirements with the city, county, Health Department and IRS, he opened about 6 weeks ago.
The next time you head into Tacoma take care of some of your big business at the County City Building, give Mikey's Wiener Trap a try.  His able and capable assistant, Melanie Basil, will help you with your order.
That's right.  Mike is a part of the solution, creating a job for Melanie during a down economy.  I wonder if I should tell the man in Washington DC what Mike is accomplishing?