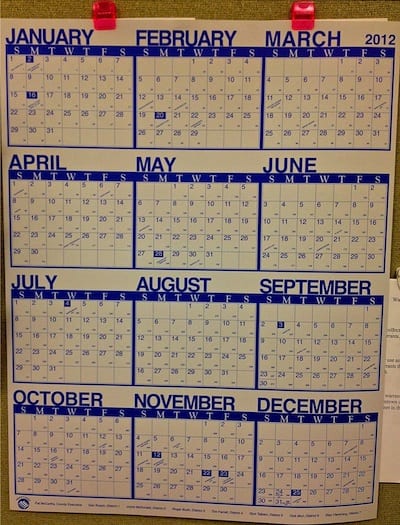 Story & Photos – Joseph Boyle
Most of us do not think much about calendars. In fact we take the calendar for granted. No one ever complains about our calendar, nor does anyone come up with any ideas to improve our calendar.
That has all changed.
Our local government designed, produced, and printed what I call the "Mutant Calendar" for the year 2012.
There was no prior announcement or fanfare.  They just distributed the calendars to humble civil servants and then sat back to watch what might happen.
The Mutant Calendar shows all 12 months with numbered dates at a glance.
To learn more about calendars in general and calendar history check out the Wikipedia site.
I took two photos of the Mutant Calendar.  One shows all 12 months (above) and the second photo (below) is a close up photo of the month of August.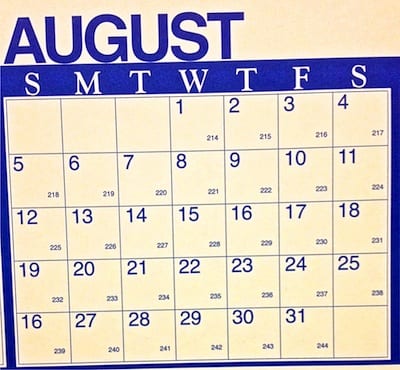 What do you notice?  That's right. This calendar quietly introduces the innovative concept that you can have more than just one August 16th.  In this year's model for 2012, you will note that there are two August 16ths.
What a great idea.  The possibilities are endless.  Here are just a few thoughts on how you might enjoy the Mutant Calendar.
You forget your August 16 wedding anniversary and your wife is calling Robblees Security to have the house locks changed.  Save your bacon by inviting her out to anniversary dinner, roses and drinks on the 2nd August 16th.
You miss your August 16 probation hearing.  No worries.  When they drag you out the front door of your home in handcuffs for having missed your court date, you will be able to wag your finger at the judge and tell him he was wrong to issue the bench warrant for you.  Tell him you plan to show up in court for the 2nd August 16.  With that argument, he will have to let you out on bail.
How about scoring 2 birthday cakes in one month?
You can try to get some extra overtime pay simply by working both August 16s.
I just bet you are starting to see the advantages of the new calendar.  Let your imagination run wild.  Mine is.
I have been looking at calendars close to 70 years.  I have never seen one like the Mutant Calendar.  I felt compelled to share it with you.
Hey, what might happen if we program in an extra leap year day?