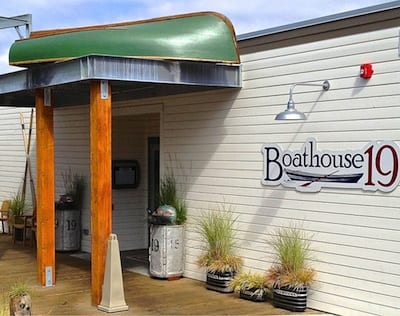 Story & Photos –  Joseph Boyle
If you hang out at Starbucks enough, like I do, you can learn something new every day.  Why just this morning, I talked to two different people who told me about Boathouse 19, a brand new restaurant in the University Place / Tacoma area.
The name cleverly includes two important clues as to the establishment's location.   
Clue #1: Boathouse. The establishment is on the water.  There must be a boathouse nearby.
Clue #2: 19.  That number will help you remember to take South 19th Street off Bridgeport Way W / Jackson Street all the way to the water.
You will not need GPS.  When you cross the railroad tracks and pull into the Narrows Marina area (boathouse), look for the signs pointing right or to the North.  There is it, built right on the waterfront overlooking the Narrows Marina, Puget Sound and the Narrows Bridge or should I say Narrows Bridges, plural?
Boathouse 19 – 253-565-1919 – 9001 South 19th St, Tacoma, Washington 98466
One of my Starbucks friends told me the place is already so popular, there was a big wait.  My other friend told me he walked right in.  The Hostess told me the timing of your visit is key.
The outside has a fun décor with Mercury and Johnson outboard motors standing in the planters. There is a big outside deck seating area.  Inside is nicely set up with small tables, large group party tables and booth space.   Everyone get's a view.
My pal Jim told me he recently read a write-up that included this eatery in a top 10 list for best deserts.  He specifically mentioned the banana split.  I have not had one of those since my teenage years.  This might just be my opportunity to eat young again.
Boathouse 19 is another Denny Driscoll out of the way destination restaurant.  He owns the Lobster Shops on Ruston Way in Tacoma and Dash Point in addition to the Tanglewood Grill in Gig Harbor.
I have not tried Boathouse 19 yet, but you know I will. Check it out to see if you can have some major fun.  Tell them the crew at The Suburban Times sent you.