Story & Photos –  Joseph Boyle
Everyone knows the center of the universe is Starbucks at our Lakewood Towne Center.  Do you know where the center of North America is located?
This summer while on my 15th annual BAMR (Big Annual Motorcycle Ride) I inadvertently discovered that the Geographical Center of North America is located in Rugby, North Dakota.
Check out my two photos and map.
The first photo is an image of the obelisk erected in Rugby in 1931 to mark the center of North America.
When you make the trip, you will leave Pierce County, Washington and end up in Pierce County, North Dakota.  The name Rugby originated in England.  Rugby is about a 20-hour drive or 24 hours if you are on a motorcycle.  The run includes 1,266 miles.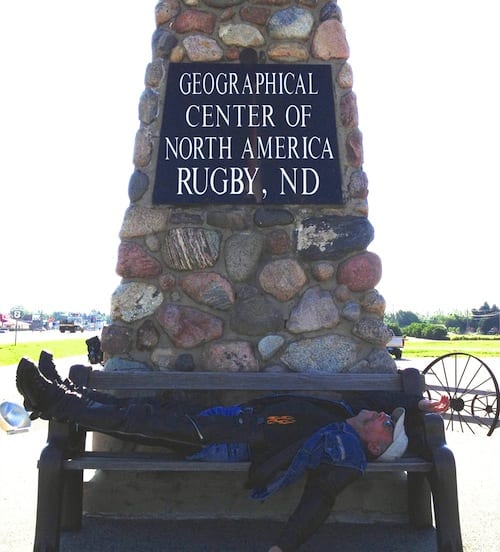 You can tell from my 2nd photo, there is a strong likelihood you will be tired when you arrive at the Center of North America, especially if you complete the ride in only one day.
Just like in Four-Corners, USA, Rugby experienced a little survey problem.  The real Center of North America is 15 miles away.  If you travel 15 miles from Rugby, you may well find nothing there.  For me a photo opportunity at the Rugby obelisk is close enough.
Check it out.  It is fun.
For more information on Rugby, http://en.wikipedia.org/wiki/Rugby,_North_Dakota.
When you have accomplished this road trip, you may feel like Columbus or Lewis & Clark.
See you on the road.