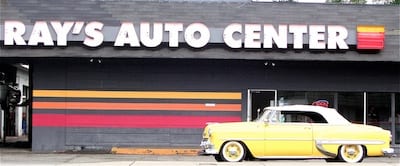 Story & Photos – Joseph Boyle
For the past 43 years I have been taking my car repair needs to an old established Lakewood family owned business known as Ray's Auto Center.
If you have never tried Ray's, I recommend you do so.  Why?  I can give you a long list of reasons and so I will.
Convenient location – 5445 Steilacoom Boulevard SW, Lakewood, WA 98499. Phone: 253-582-3900.
Free shuttle service to and from your home or workplace, often with Ray George, founder of the Lakewood location, doing the driving.
Friendly customer relations.  Debbie Creaser – Office Manager (Started 1997), Steve George, currentmajor owner of the family business, (Started age 17 in 1978) and Wally Camp, Manager (Started 1975)greet you at the front counter.  Debbie books you into the shop and collects your money when you pick up your newly repaired car.  Upon your arrival, Steve and Wally wonder out to the front lot with you to evaluate your car troubles.
Ray's has pleasant, intelligent and knowledgeable mechanics.  Sometimes you talk directly with the mechanics, Like Gabe George, 4th generation family mechanic, who is the founder's great grandson.The mechanics are always patient with you.  They have good ideas for your car too.
Honesty.  That is a big deal for me.  There is never any high-pressure tactics.  They do not try to sell you stuff you do not need.
They fix it right the first time.  I am sure there must be exceptions since auto mechanics is not an exact science, but I cannot ever remember a time when my car problem was not solved the first time.
They work on my 90-year-old mother's car.  They go out of their way to take such nice care of my favorite senior citizen.  I sent her to Ray's when she was only 77.
Appropriate pricing.  You can pay more at a dealer and you pay less with a shade tree mechanic, but you get true value at Ray's.
It matters not the year of your car, as Ray George says, "We keep them running forever".  They work on old and new cars.
They are enthusiastic about cars including your car.  I recently stopped by the shop unannouncedand found my 1934 Ford parked on Gabe's hoist.  I asked him to lift it up so I could inspect the underbelly.  He had no idea I was going to be in his mechanic bay.  Guess what?  He had taken the trouble to place pieces of cardboard between the lift and the frame of my car because of its collector car, frame-off restoration condition.  He did not want to scratch the painted surface of the frame.  That is how they carefully handle your car even when you are not looking.
I could go on, but let's talk about the history of the company.
1939 – Ray Jackson "Jack" George (Great Grandpa) opened the first generation family owned garage in Orange, California.  Our Lakewood Ray George, Raymond Edward George (Jack's son) hung out at his dad's shop when he was a young boy.  Working on cars got into Ray's blood.
1945 – Jack died in a car accident when Ray was about 12.
1954 – Ray started working in garages while attending Clover Park High School.
1975 – Ray started his own shop near the Lakewood Donut Shop on Gravelly Lake Drive SW.  It was a Texaco Service Station that featured auto repair.
The next location was the old multi-bay J.C. Penny Auto Shop inside the Vila Plaza, now known as the Lakewood Towne Center on Gravelly Lake Drive SW.
1986 – Ray's moved to their current location at 5445 Steilacoom Boulevard SW, Lakewood, WA 98499.  Phone: 253-582-3900.
Ray's son, Steve George, (Jack's Grandson) grew up in the shop, following in his father, Ray's and grandfather, Jack's footsteps.  He became a 3rd generation mechanic working in the family business.
Steve is now the key owner of the shop.  Ray is still involved and check's in every day as a consultant and Customer Courtesy Driver before heading to his favorite retirement activity, golf.
Fast forwarding to the 4th generation, Gabe George, (Jack's Great Grandson), started hanging out at the family garage when he was in kindergarten.
Jack & Ray represent the family business history.  Steve is the family business present.  Gabe is the potential family business future.
Gabe shows great skill and heart for his family business.
None of the long term employees or owners of this business consider what they do as just a job.  They love what they do.
Have you ever noticed that mechanic shops come and mechanic shops go?  Not Ray's.  They have been helping their customers in Lakewood forever.  Ray's company culture must be on target to be able to keep their employees and customers long term, which has allowed the business to last long term.
If you love your car, you will love Ray's.